If you're sitting on a large balance of Starpoints, or can transfer them from American Express Membership Rewards to Starwood, your redemption options are not just limited to free hotel stays or transfers to airline frequent flyer programs.
If experiencing once in a lifetime events are more your thing, then the SPG has you covered through SPG Moments.

What is SPG Moments?
SPG Moments is a redemption option focused on rewarding its members with once-in-a-lifetime events. These moments incorporate a broad range of events and comprised of the following categories:
Culinary Moments, which include exclusive cooking lessons, VIP food festivals and dinner with some of the world's greatest chefs
Culture Moments, which include best of house show tickets, red carpet premieres and access to a chef's table
Music Moments, which include premium concert tickets, private performances and backstage access
Sports Moments, which include tournament and event tickets, player meet and greets and skills clinics with pros
But why are these appealing? Most of the Moments on offer come from Starwood's exclusive relationships with arenas, sports teams or artists, usually meaning some kind of bespoke event or unique access that couldn't otherwise be bought using cash.
Right now there's also an auction for a VIP experience for families at Carols in the Domain in Sydney on 18th December, going for 4,000 Starpoints – although as it's an auction, the price will likely go up.
Depending on the final price, it could be a decent deal if you'd be into this – VIP seating for two adults plus two children, backstage access and a meet and greet with Dami Im, and parking at Sheraton on the Park.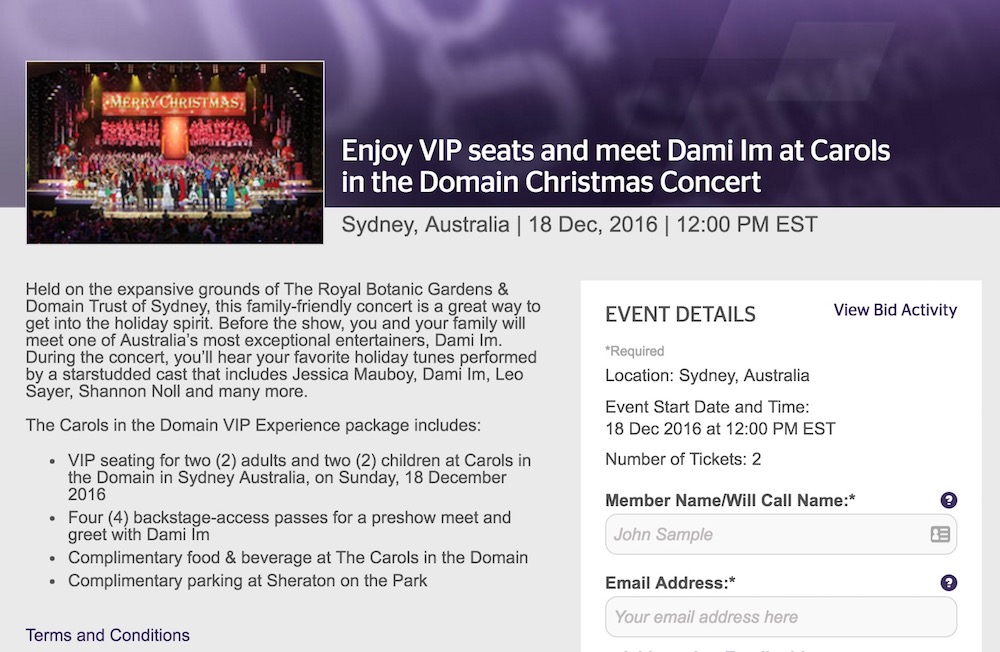 Another example – Keith transferred over Membership Rewards points for Starpoints, and then purchased tickets to the Melbourne Grand Prix, including an exclusive Q&A with Lewis Hamilton.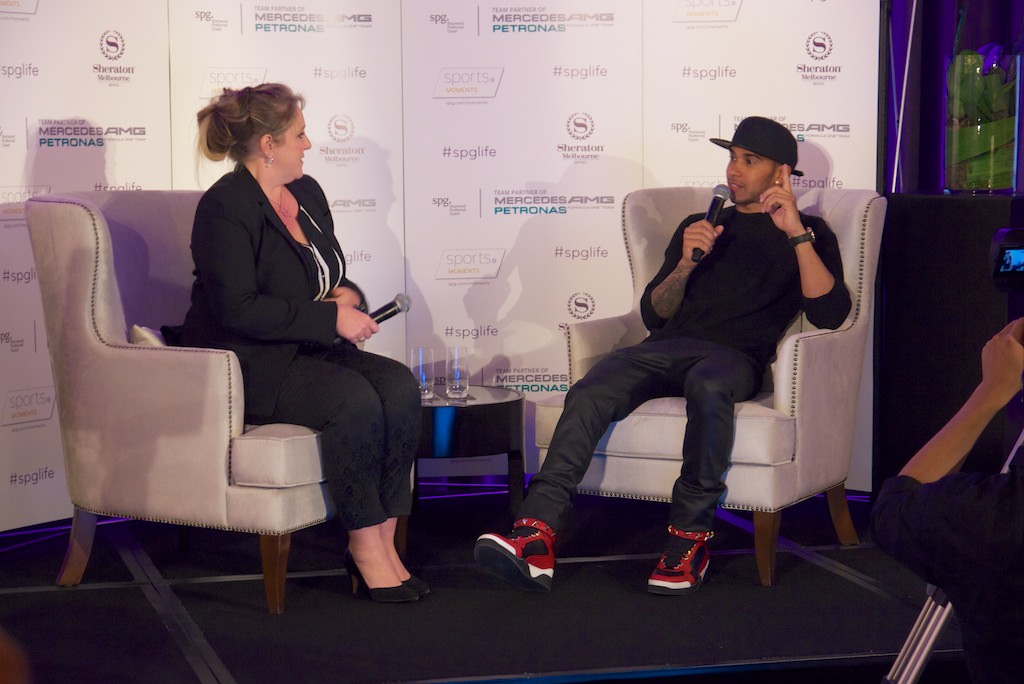 How does it work?
SPG Moments start at 1,000 points, but frequently go a lot higher . To search for an event, it's a simple as viewing a list of current SPG moments, with new events being continuously added to the site.
There are two types of events available for redemption. These are:
Single-package events, which are events with only one package available. You bid on this event using your Starpoints and the highest bid at the close of the auction wins
Fixed-price events, which are generally limited in number and always have a set price. To win these packages, you have to be among the first bidders to redeem the required number of Starpoints. Once they are sold out, you will be unable to redeem for that event. These type of events are identified by a 'Redeem Now' button being displayed on the redemption screen.
On occasion, SPG offers private moments, which are auctions available to selected SPG members.
The process for finding Moments is relatively straightforward. You can select by type, date range, location, point range or any general keyword.

Australian SPG members would look to select Asia Pacific region to find events in Australian cities. However, Asia Pacific events are predominantly centered around Shanghai, with Australia and other Asian cities falling into the 'Any City' option.
There aren't too many SPG Moments events in Australia – the Grand Prix in Melbourne is an annual fixture, along with the odd concert. But availability in Asia, North America and other regions is usually excellent.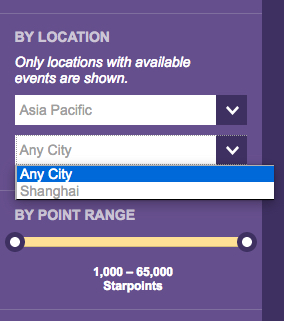 How to maximise your chance of winning
Single-event auction events are generally live for around 10 days from the date of auction launch, so you'd want to be quick to submit your bid to maximise your chances of winning. The winning bid is based on a few variables, which include the number of members bidding on the package and how high they are willing to bid.
SPG does guide members with their bids by publishing the prices of winning bids for Past Moments, along with providing the current highest bid for current moments.
Clearly, the higher you bid, the greater your chances, so looking for ways to maximise your SPG points should be a major consideration.
Best way to earn Starwood Preferred Guest points
While there are no SPG direct earn cards in Australia, there are ways to accrue Starpoints indirectly through a variety of credit cards that are linked to American Express Membership Rewards Programs. Historically, the earn rate for Starpoints in Australia has been not as appealing compared to other frequent guest programs, generally earning members 0.5 SPG points per dollar spent.
This recently changed with the introduction of the American Express Explorer card, which earns American Express Gateway points that convert to Starpoints, and is the first card in Australia to offer 1 full Starpoint per dollar spent.
In some circumstances it may also make sense to buy the Starpoints you need outright for an SPG Moments redemption, or just an account top up if you're a little short – especially during a bonus or discount promotion.
Summing Up
While the concept of redeeming for exclusive events is definitely appealing, the availability of events in Australia could be better.
However, if you travel frequently and are looking to do something outside the norm while you're overseas, you should be able to find some good value in this program, given the good availability of overseas events.
How to redeem Starpoints (and Amex Membership Rewards points) for once in a lifetime events using SPG Moments
was last modified:
August 26th, 2018
by