I just wasted three hours of my life.
I have been looking to jet off to Colombia next month to escape Austin, TX and its all-encompassing hipster fest that is South By Southwest, and have been keeping an eye on flights to Bogotá, Medellín and Cartagena. Over. And over. And over again.
What a waste of time! And I ask myself "why didn't I just set up a fare alert in the first place".
Why spend hours trawling airlines' websites and frequent flyer forums trying to find the best deal on your flights? Whilst some of us enjoy the chase, even for those who do (like me), signing up for fare alerts on a specific route or for all destinations is a good strategy to save time and take some of the guesswork out of the equation.
There are a number of services that Australians can use to watch price drops in airfares and let you know when the price matches or falls below your target. Alerts are free and you can stop them at anytime.
Fare alerts on specific airlines
Qantas and Virgin Australia offer fare alerts on their apps, whilst Jetstar does theirs via email. Tiger does not currently offer this option.
Qantas and Virgin Australia
Setting up a fare alert on either of Australia's full-service airlines is very easy via their mobile apps. Both allow you to set up an alert for a specific destination (e.g. Broome) or 'Anywhere', whilst the Virgin app also allows you to put in a country (e.g. United States) or region (e.g. Africa).
In the Qantas app for iOS, Android and Windows, go to My Fare Alerts in the sidebar and click the + to add a new alert.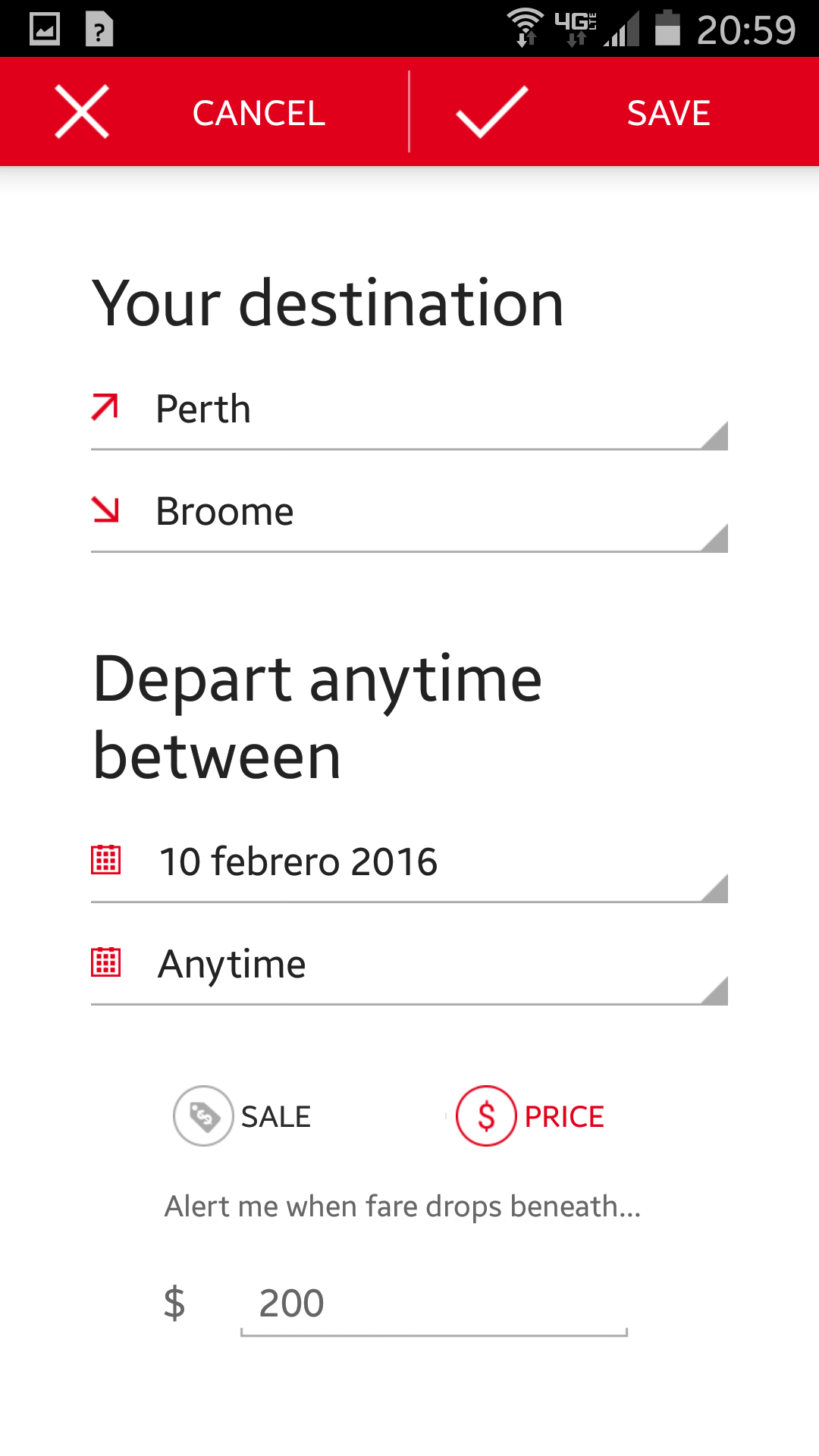 In the Virgin app for iOS and Android, go to the Alerts tab and fill in the details.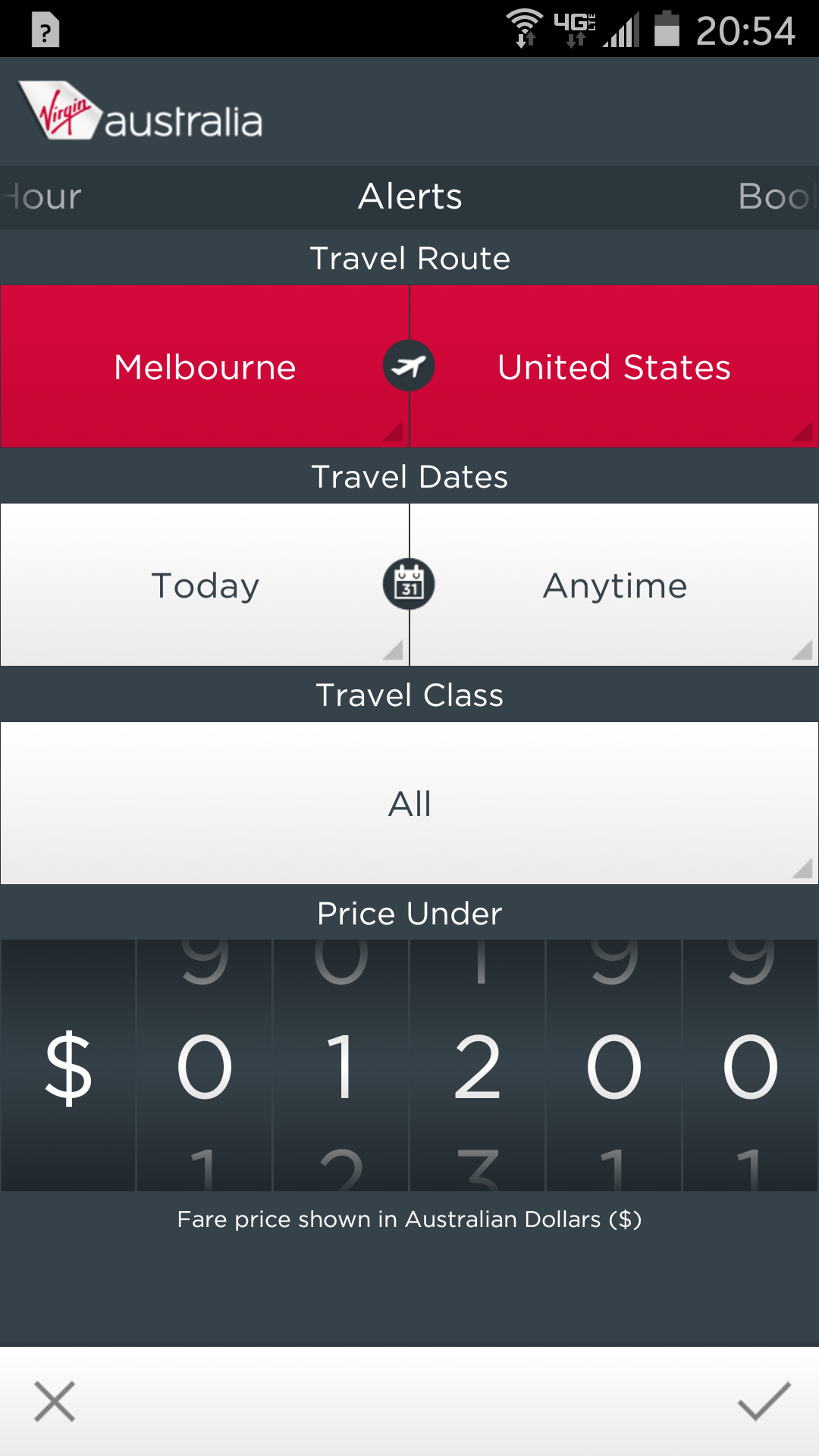 Jetstar
Jetstar only offers price alerts on a specific route, but offers you the choice exact dates or flexible dates. To set up an alert, do a flight search and click the orange Watch Prices button, then fill out the details.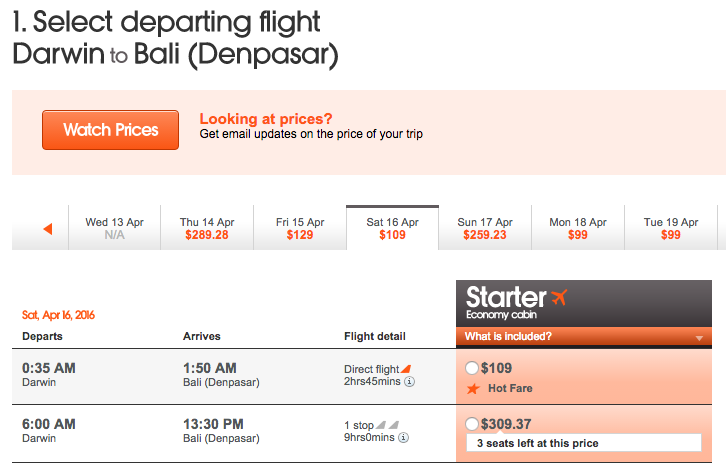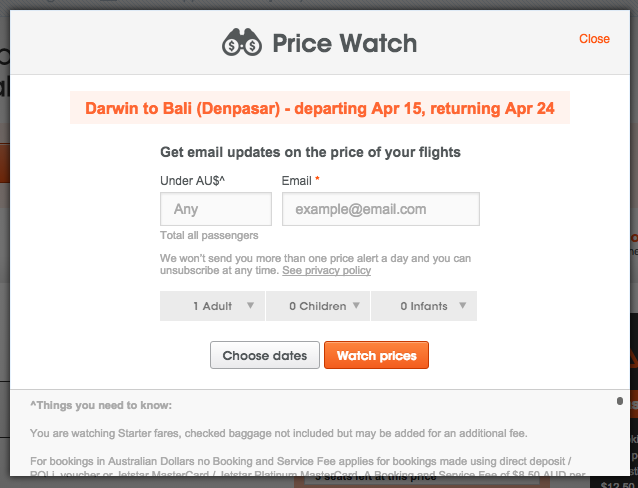 You can find more information on price alerts on the Jetstar website.
Fare alerts on any airline
Adioso
It is very easy to set up a price alert on a flight to a specific airport, country, region or anywhere on Adioso, one of the most flexible, user-friendly aggregate search websites. Just do a flight search and click on the Watch Prices button in the top right-hand corner.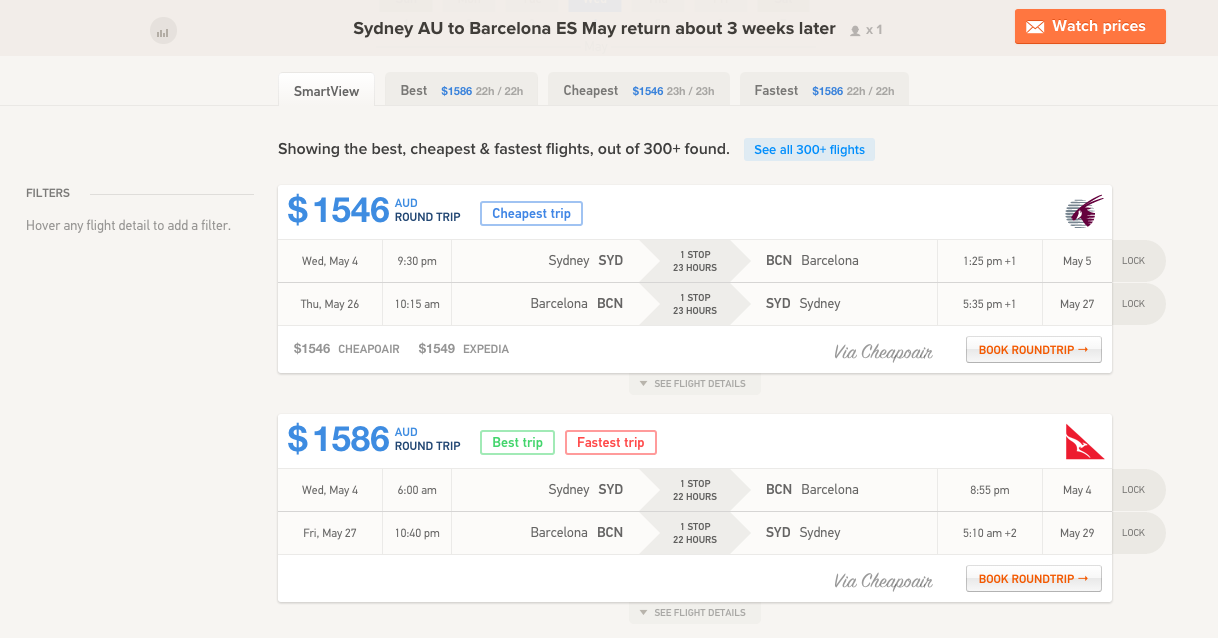 KAYAK
Alerts on KAYAK can be set up for exact dates, flexible dates or, my favourite, the Top 25 cities around the world or in a specific region. To create an alert, set up a KAYAK account, sign in, go to your account and click on Emails & Alerts.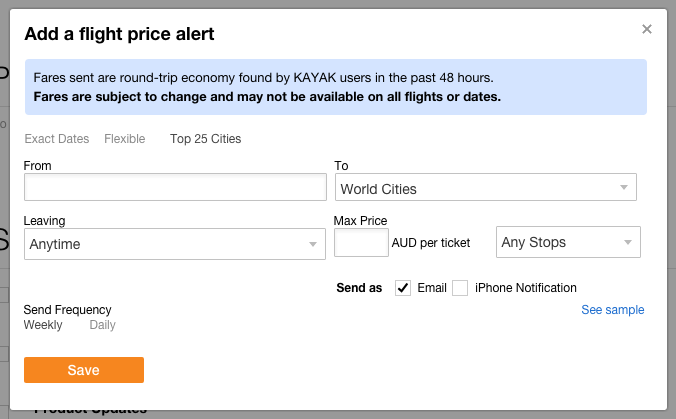 Skyscanner
It is simple to set up a fare alert on Skyscanner, but you are limited to exact dates. Do a flight search and then click on the Get Price Alerts button in the left sidebar, then let the technology do the work for you.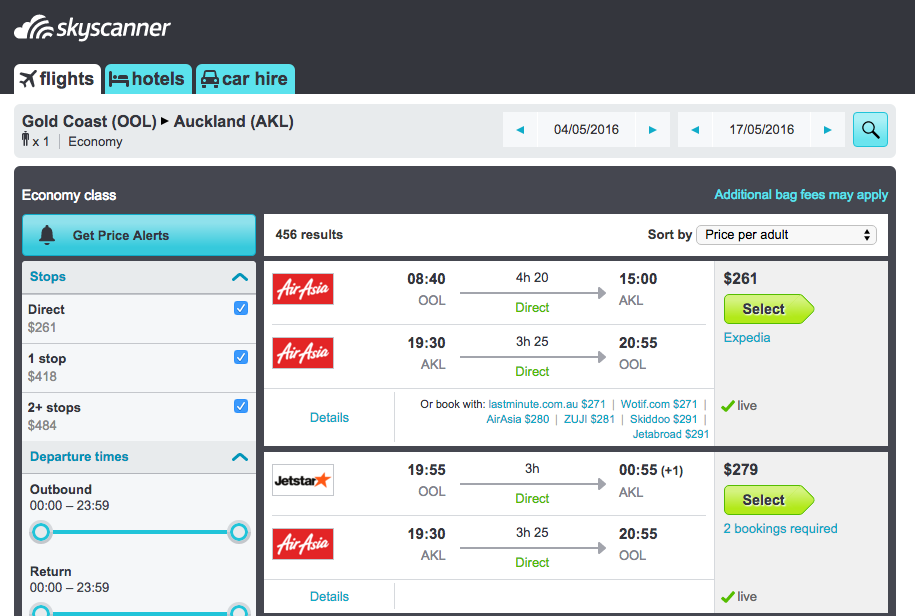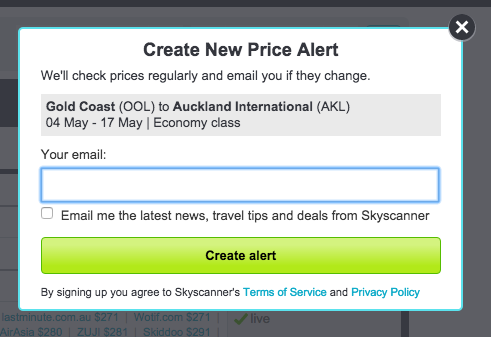 More ways to find cheap flights
Whilst there is no hard and fast rule to finding the cheapest flight, some suggest the following:
Adjust your departure time: try taking a flight before 6:30/7am or after 7/8pm – this avoids the peak business travel times
Try a different day: Tuesdays, Wednesdays and Saturdays tend to be cheaper days to fly, with Sundays, Mondays and Fridays registering peak travel demand
Use alternative airports: smaller airports can have lower fees for airlines, meaning lower fares for travellers. You could consider Melbourne's Avalon instead of Tullamarine, the Gold Coast instead of Brisbane, Oakland instead of San Francisco, or Paris' Orly instead of Charles de Gaulle
For long-haul travel to Europe, consider starting your itinerary from an Asian city such as Singapore, Kuala Lumpur, Hong Kong or a few others, and buying a Scoot, AirAsia X or Jetstar fare to Asia from Australia. Flights such as Kuala Lumpur – Dublin – Abu Dhabi – Melbourne can be considerably cheaper than buying from Melbourne to start with.
How do you find cheap flights? Let us know in the comments below!
Use airfare alerts and save time when searching for cheap flights
was last modified:
June 25th, 2019
by