Fiji Airways is one of the few select Qantas partners where Qantas Points can be redeemed at the same price as for travel on Qantas itself – which is why it makes it into our 'Best uses of Qantas Points'.
In this guide we look at the options Fiji Airways provide when it comes to using points; how to find award availability (as Qantas doesn't show Fiji Airways flights by default for US searches); and why you might choose Fiji Airways over Qantas or American Airlines in travelling to the US.
---
There are two key types of redemption you might consider with Fiji Airways – either to Nadi, their hub in Fiji as a destination, or connecting to the US. The latter is the focus of this guide.
Key things to know about redeeming with Fiji Airways
When it comes to redeeming points, availability is ultimately what counts – and in our opinion, remembering that Fiji Airways operate to the US as a Qantas Point redemption option may end up allowing you to use your points when otherwise American or Qantas may have had none on offer.
Opportunities for using Qantas Points to the US in Business Class are limited by the seats each airline makes available for using points
Qantas shows available seats for Qantas and American Airlines by default when searching between Australia and the US, not Fiji Airways
As a result, you'll need to search explicitly for availability on Fiji Airways when using Qantas.com (this guide shows you how later)
Points pricing is equivalent to Qantas and American flights, while taxes for Fiji Airways are cheaper than flying with Qantas
Each carrier has a different Business Class product and lounges to choose from along the way (except for departing Australia).
Aircraft and destinations
To Fiji
Fiji offers direct services to Nadi from Sydney, Melbourne, Adelaide and Brisbane. Most flights to Nadi are on a Boeing 737, with some exceptions – one of the Sydney flights is often on the newer Airbus A330. The A330 flights are the ones to target if you can.
Remember that Qantas does not fly to Fiji; rather Virgin Australia is Fiji's competitor on these routes, with services from Sydney, Melbourne and Brisbane.
To the US
From its hub in Nadi, Fiji Airways flies daily to Los Angeles on an A330, twice a week to San Francisco (both with their A330) and weekly to Honolulu on a 737.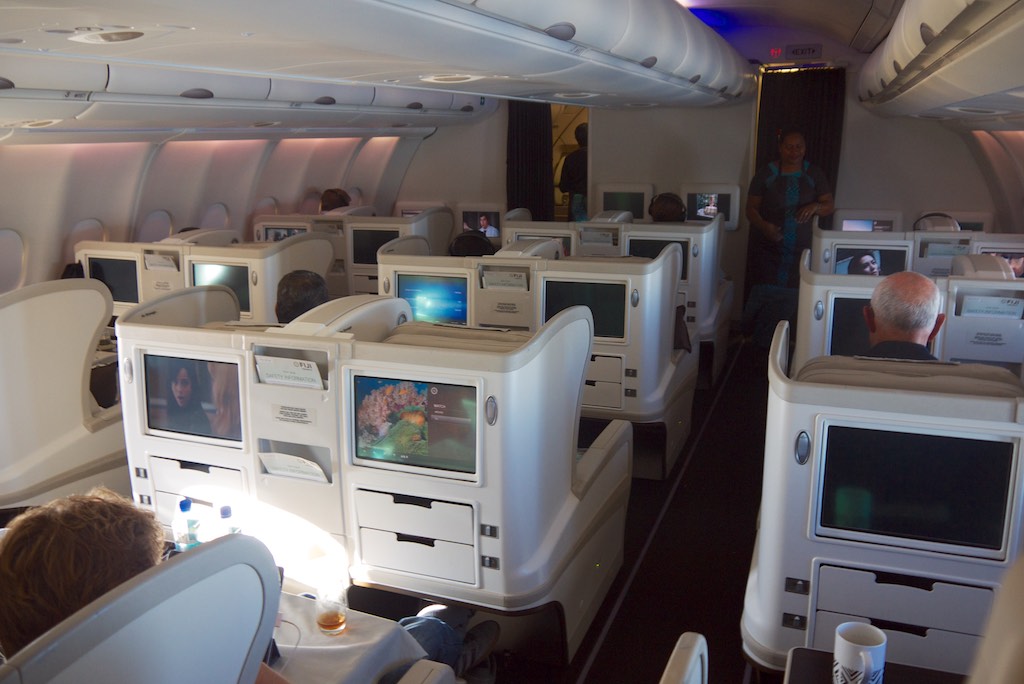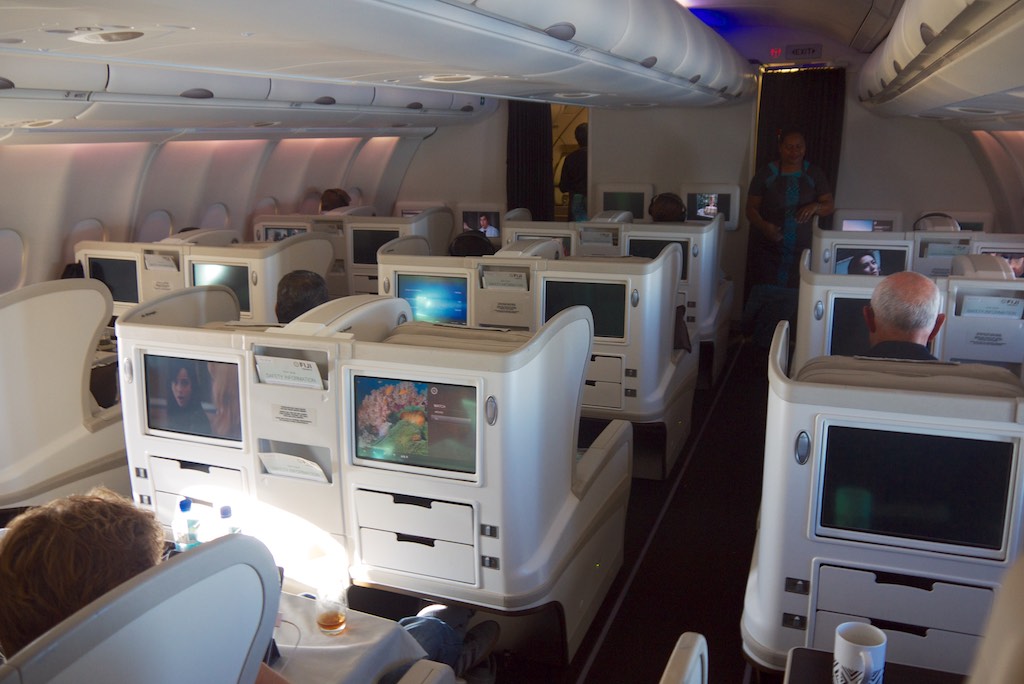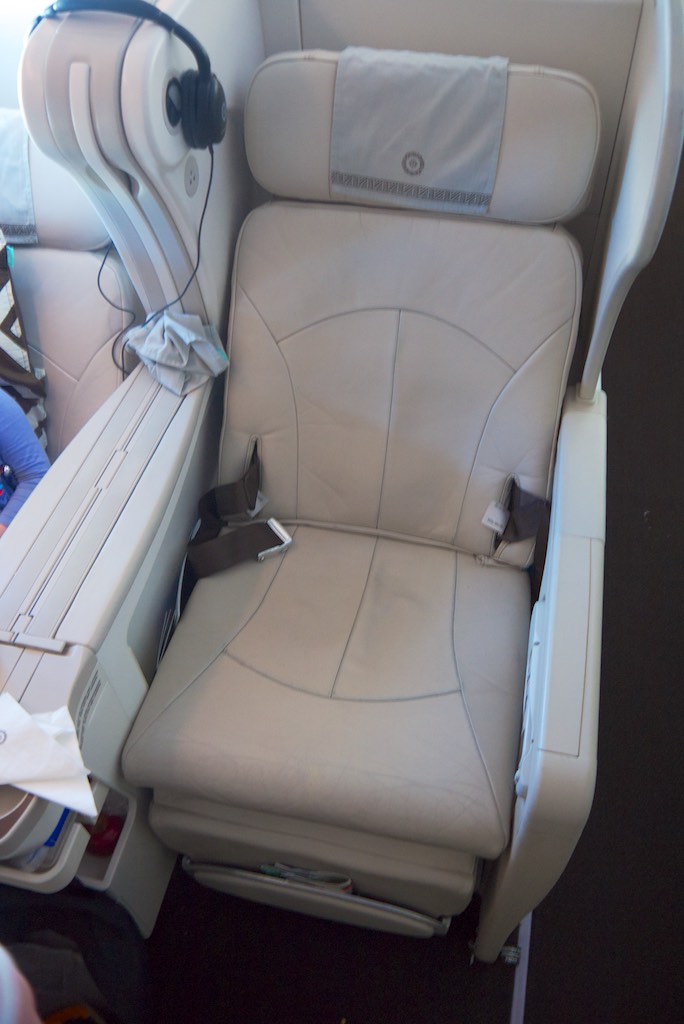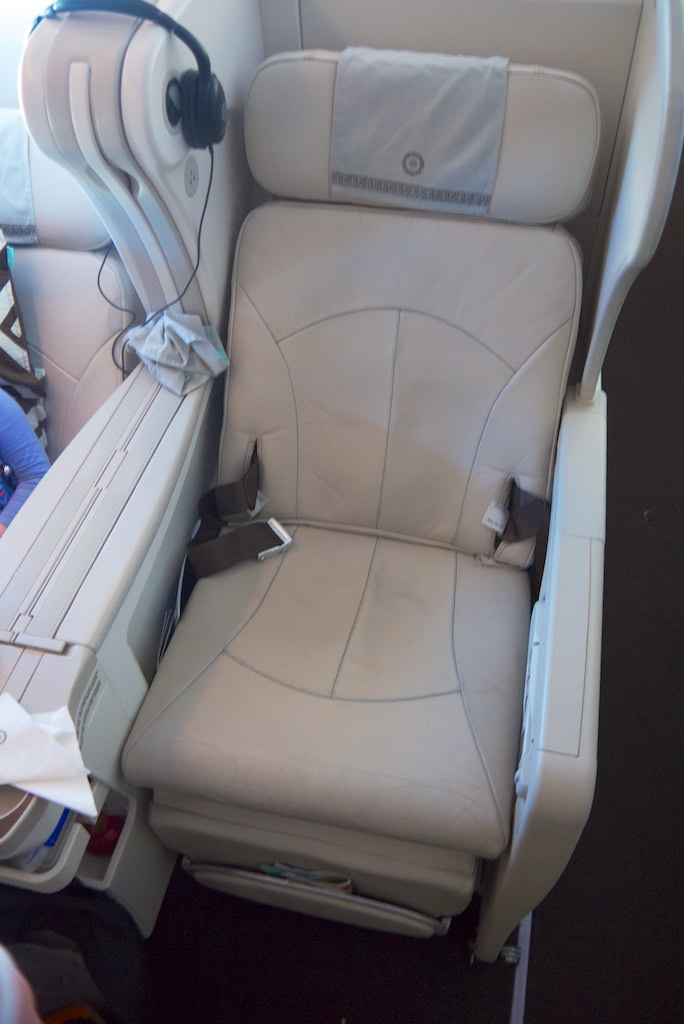 Fiji's 24 Business Class seats in a 2-2-2 configuration on the A330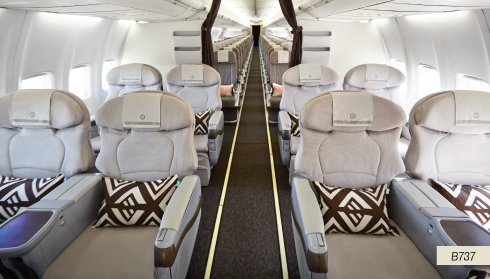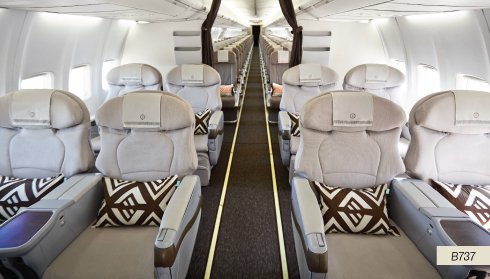 Fiji has only eight business seats in a 2-2 configuration on the single-aisle 737
Fiji Airways award space to the USA
Each of the three carriers (Fiji, American and Qantas) that you can use your Qantas Points for that operate across the Pacific seem to manage their points award space in different ways.
Fiji tends to release award space inconsistently to its partners quite far out and then some more a few weeks out from departure.
American seems to manage their inventory in blocks. There's no redemption availability for a while, and then a block of seats will open up for redemptions.
Qantas tends to consistently release its Business Class availability at the edge of their calendar, so 353 days prior to flying, a couple of seats usually come up. If these are booked and not cancelled, extra seats often do not come up.
However because Fiji Airways award space is less in demand than the direct flights with Qantas and American, you may be able to find space with Fiji Airways when you couldn't with Qantas or AA.
How about taxes?
Fiji Airways surcharges when booking with Qantas Points are far lower than if you were redeeming with Qantas, which should be under (or around) $150 AUD per passenger in Business Class for a departure from Australia, or under $50 for a USA-Fiji-Australia itinerary.
Stopovers in Nadi
This is where using points for Fiji Airways to the US gets interesting for the leisure traveller (or those with flexibility in their travel plans).
A cheap stopover in Fiji for Sydneysiders and Brisbanites can be handed for only an additional 12,000 Qantas Points in Business Class.
Heading on a Qantas or AA flight to LAX or San Francisco will set you back 96,000 points one-way in Business, whilst a Qantas flight to Honolulu costs 72,000 points.
As Qantas does not allow stopovers on their redemptions, in order to get a stopover in Fiji, you have to book two separate awards.
Working backwards, your second flight from Nadi to LAX or San Francisco costs 72,000 points in Business Class one way, with a Nadi-Honolulu flight costing 50,000 points in Business Class one way.
So to get from Sydney or Brisbane to Nadi, you pay 36,000 points (+~$85 taxes). Adding your two flights together, e.g. Sydney-Nadi-LA will cost you 36,000 + 72,000 = 108,000 points in total vs 96,000 points for a direct SYD-LAX flight on QF or AA (again, all one way in Business Class).
From Melbourne, it is a little more expensive to get to Nadi, costing you 50,000 points. As opposed to Brisbane (which would cost you 14,000 more), it is the same price to fly Qantas to Sydney and then on to Nadi on a Fiji A330 instead of Melbourne-Nadi direct on the older 737.
The bad news for Melbournians is that it would cost you 50,000 + 72,000 = 122,000 points with a stopover in Fiji vs 96,000 points on a direct MEL-LAX flight or one transiting through Sydney or Brisbane, so a stopover is not as attractive for those from Victoria.
What about Economy flights?
You can halve all of the points costs above for Economy travel, however using Qantas Points for Economy travel is only really viable on American Airlines and Fiji Airways due to the taxes and fees imposed on Qantas flights by Qantas Frequent Flyer.
It is viable from a cost point of view to use points to travel in Economy to the US with Fiji Airways, but I'd suggest looking for a direct flight with American in Economy if possible.
For more on this, you can read our more in-depth comparison of using Qantas Points for Qantas vs American Airlines redemptions to the US.
Searching and making a booking using Qantas Points for Fiji Airways flights
Fiji Airways flights are available for booking on Qantas.com using Qantas Points, just like Qantas and their other partners.
However if you're searching for award availability between Australia and the US, Fiji Airways results only show if you look for them specifically on a multi-stop itinerary.
If you look for a direct flight between Sydney and Los Angeles, then Fiji Airways are usually not included in the results shown by Qantas.
However, if you change this to a multi city search, you may start to see options to fly to the US with three hour layover in Nadi – for the same points price as flying with Qantas or American in Business Class.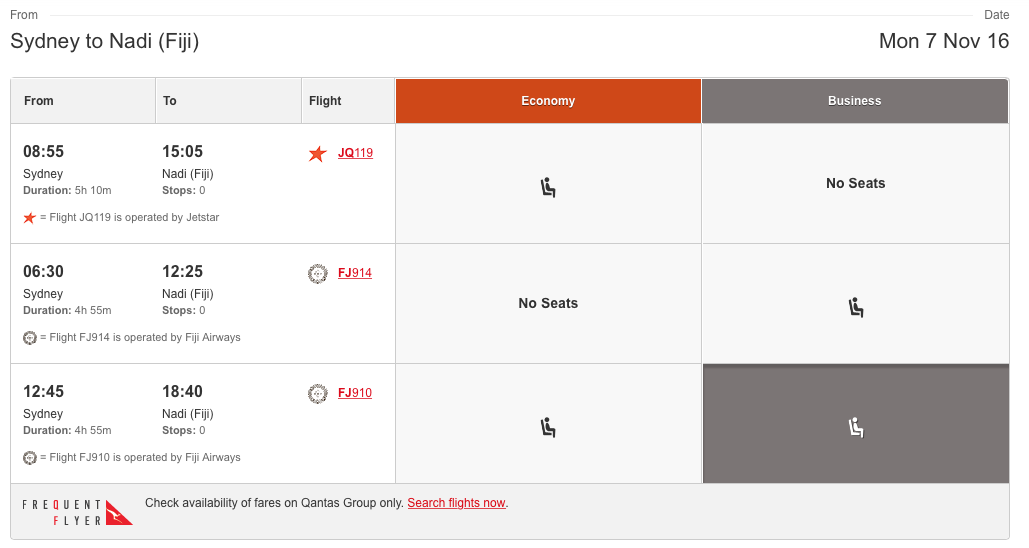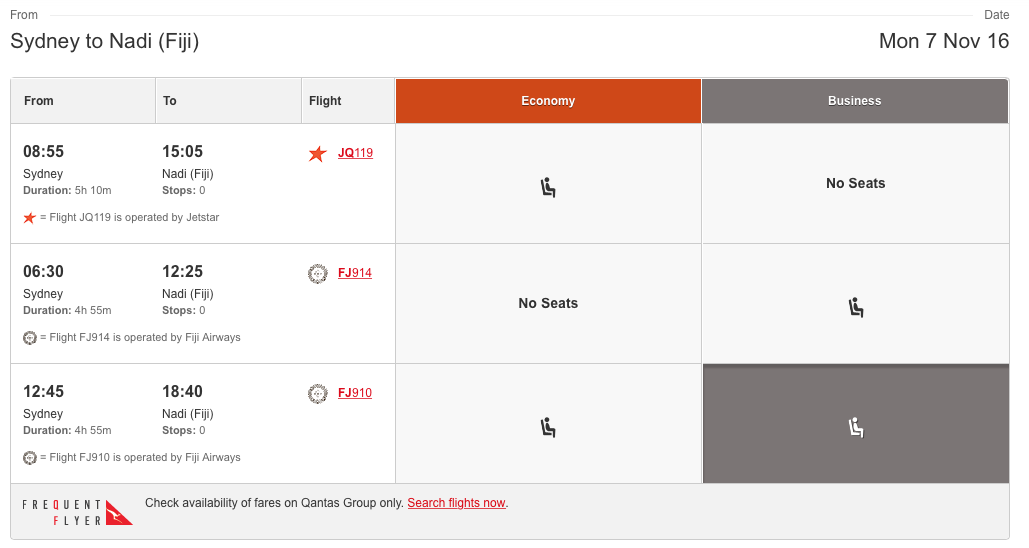 The final itinerary shows the three hour layover in Nadi, along with a very reasonable amount of taxes for a Business Class flight to the US.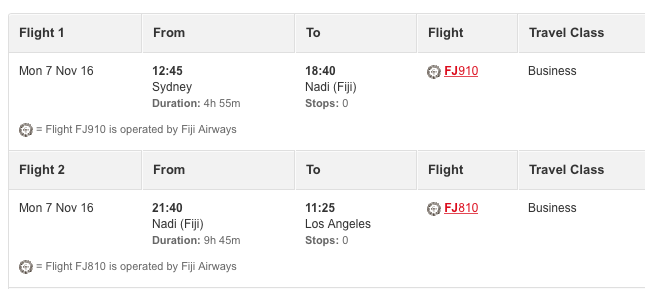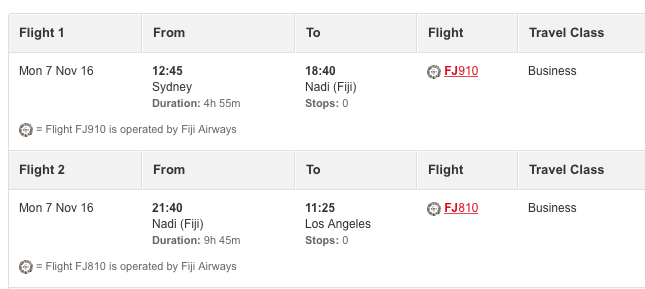 To use a multi city search, click the "Multi City" option that's found near most flight search fields on Qantas.com – or go directly there with this link, remembering to check "Search Classic Awards".
The hard part of course is that Qantas.com doesn't show these results, as mentioned before. So, if you're using Qantas.com, this would be my approach for searching for availability…
In either scenario of stopover or not, you'll want to make friends with the "Flexible with Dates" checkbox on the Multi City search page.


For flights leaving out of Australia, input your preferred departure city (Sydney, Brisbane or Melbourne), and then the same day for the onward flight to Los Angeles, Honolulu or San Francisco (regardless of whether you're looking for a short stopover of a few days or not, it you'll be shown an availability calendar for the results so don't waste time fiddling with each exact date). Check the "flexible with dates" checkbox.
You'll then be shown results (as you'd expect) in calendar format. It will default to Economy first. If you're looking for Business Class, change that and hit "Go".


From there, you'll be shown two calendars of results – one for each flight. I would suggest starting by looking at the longest flight first which is likely to have the least award availability – in this case Nadi – Los Angeles.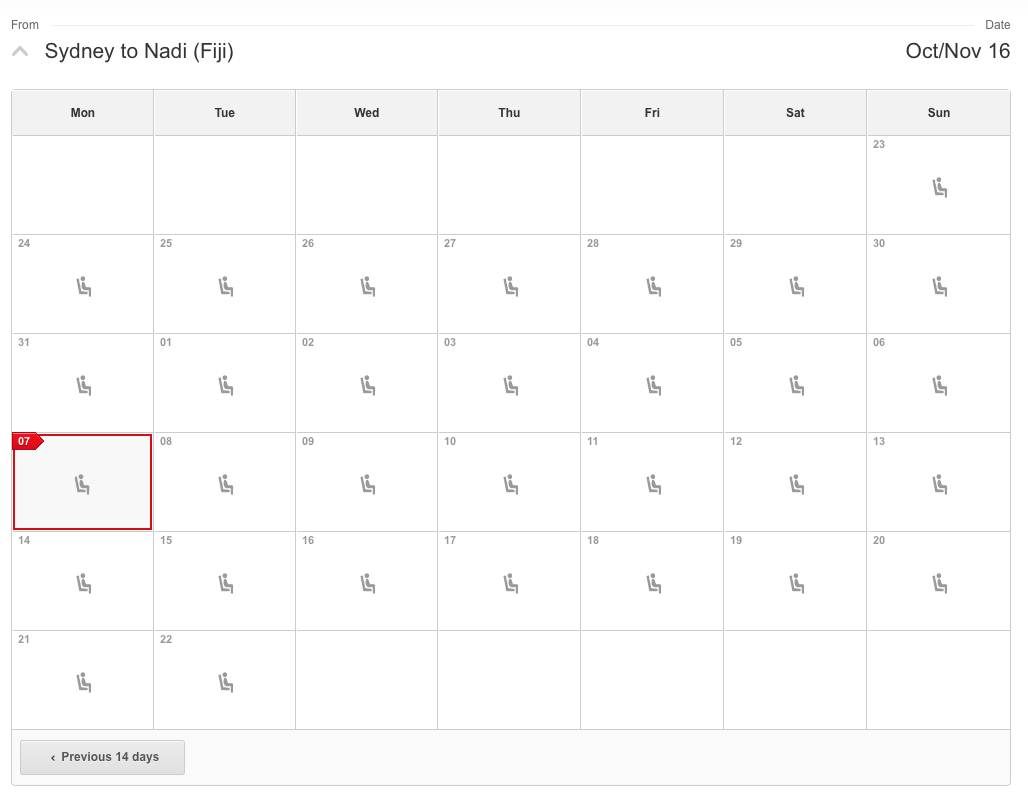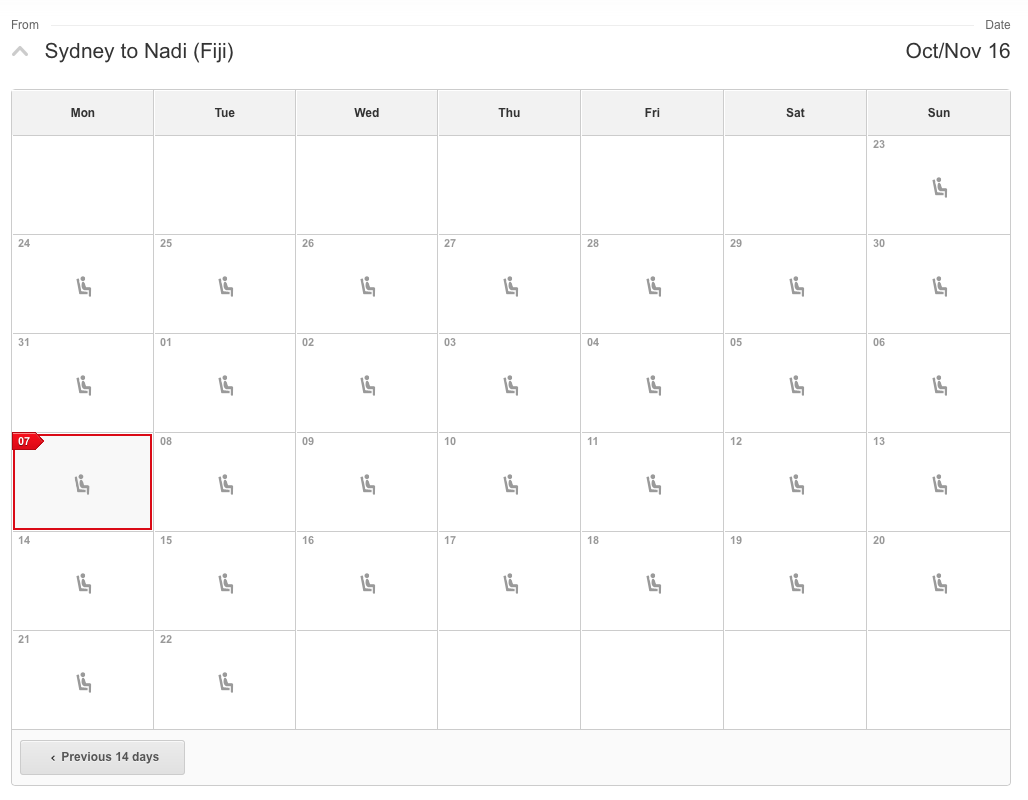 Above are the Sydney – Nadi results. Every day has Business Class availability here – generally this will be on Fiji Airways here unless Jetstar are flying one of their 787 aircraft with StarClass.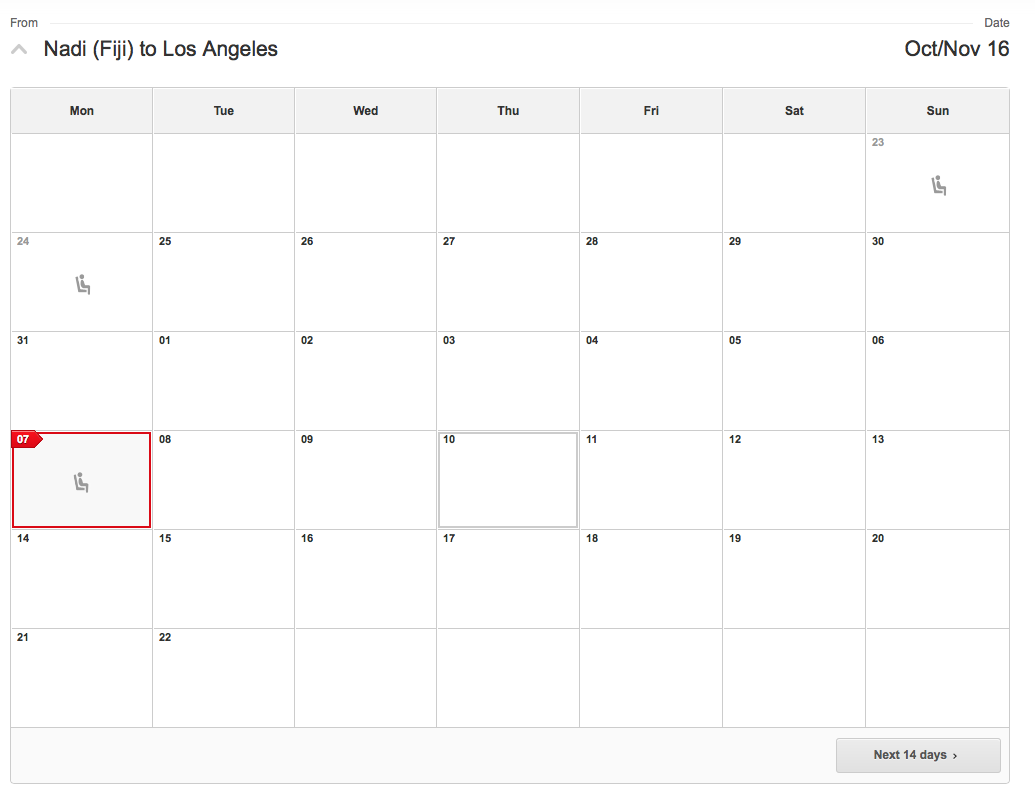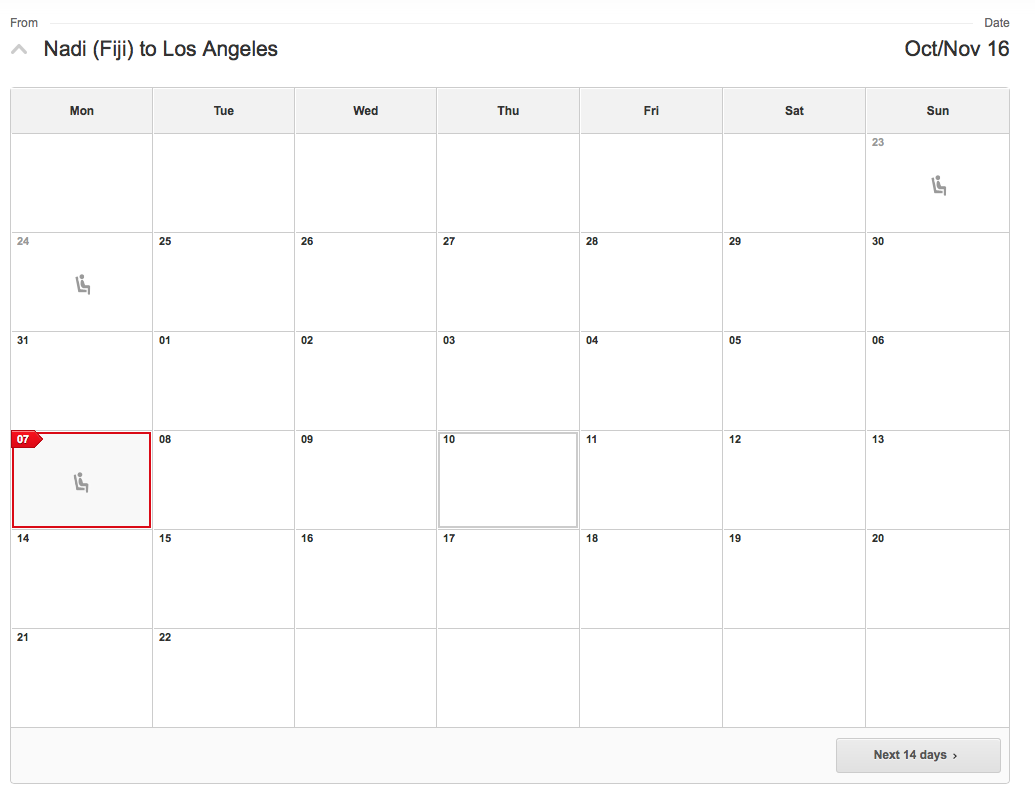 These results are for Nadi – Los Angeles. There are only two options, but seeing these then allows you to then look back up at the Sydney – Nadi results and see what days might work for your travel plans – either choosing a flight the same day to connect or selecting a flight a few days prior to build in a stopover in Fiji.
If you get no results for your preferred routes or dates, then branch outward – double check San Francisco if you're looking for flights to LA, and similarly between Brisbane and Melbourne. You might find an alternative option with an extra connection.
Summing up
Fiji Airways has a not as good Business Class product and lounge access on flights from the US than either Qantas or American, however the option of combining a North America trip with a stopover in Fiji could be attractive to many – especially where you otherwise couldn't find award availability to or from the US.
Award availability is not terrible – while it's not guaranteed that there will be seats for you book, you could be surprised so it is definitely worth checking Fiji Airways options if the direct flights have not yielded any results.
To do so, you'll have to search each leg of your journey independently using Qantas.com to find the Fiji Airways flights that might work to the US, so put aside a little extra time to do some digging for your dates.
How to use Qantas Points with Fiji Airways – a low-tax, better availability alternative to Qantas & AA flights to the US
was last modified:
March 10th, 2019
by