Woolworths' partnership with Qantas Frequent Flyer directly competes with its rival Coles' link-up with flybuys.
In this guide, we give you information the partnership and our take on how to maximise your points earn.
Cashback vs earning Qantas Points
When placing an order with Woolworths Online, you can choose between earning Qantas Points through the Qantas Shopping online portal and getting cashback with Cashrewards.
The regular earn rate through Qantas Shopping is 2 Qantas Points per $ spent, which I value at $4 per $100 spent.
Given you would earn $5 cashback on a $100 order with Cashrewards, I would recommend opting for cashback with Cashrewards unless Qantas offers at least 3 Qantas Points per $ spent with Woolworths (which it occasionally does—check the current offer here).
Current offer: earn over 4 bonus Qantas Points per $ spent at Woolworths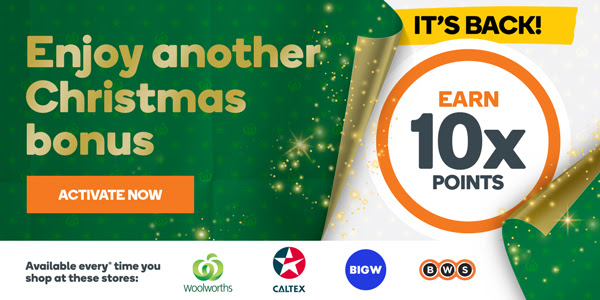 Between 13 and 16 December, you can earn 3-10x bonus Woolworths Rewards points on shops of over $50. Here is how the supermarket is promoting it:
Give your festive season a boost with big bonus points every time you spend $50 or more!
Available at Woolworths, BWS & BIG W in-store or online and at selected Caltex fuel outlets.
3X POINTS every time you spend $50 or more in one shop
5X POINTS every time you spend $100 or more in one shop
10X POINTS every time you spend $150 or more in one shop
There is no limit to the number of times you can take advantage of this promotion.
Here is what you normally would earn versus the bonus points you'd receive using this promotion:
| Spend | Regular Woolworths Rewards earn | Qantas Points equivalent | Bonus Woolworths Rewards earn | Qantas Points equivalent |
| --- | --- | --- | --- | --- |
| $50 | 50 | 22 | 150 | 65 |
| $100 | 100 | 43 | 500 | 217 |
| $150 | 150 | 65 | 1500 | 650 |
Using our current valuation of Qantas Points at 2c a piece, a shop of $150 at Woolworths with this promotion will earn you $13 worth of points, which is almost 10% of your purchase—that's great value!
Note that Woolworths Rewards points are only converted into Qantas Points at the end of every quarter when your balance hits 2,000 Woolworths Rewards points.
You need to activate the offer here and scan your Rewards card in-store or shop online at Woolworths, BWS, BIG W and selected Caltex fuel outlets. You need to leave at least two hours between activating the offer and shopping.
Maximise this promotion
You can super-charge your points earn by stacking with these offers:
As an example, if you took advantage of all three offers on a $150 online spend, you'd get 1500 bonus Qantas Points + 450 American Express Membership Rewards points, worth ~$38—huge value!
---
A quick overview of the partnership
It is relatively simple but still needs a little explaining.
You'll earn 1 Woolworths Rewards point for each dollar you spend at Woolworths, including supermarkets, online, BWS and Caltex
If you do nothing, your Woolworths Rewards points will go towards a discount on your shopping at checkout—each point is worth 0.5c (this is the same as flybuys, by the way)
If you decide you'd prefer Qantas Points, you can choose to redeem 2,000 Woolworths Rewards points for 870 Qantas Points instead but you'll need to select this option on the Woolworths Rewards website to start the automatic transfers. Points are swept over at the end of every quarter when your balance hits 2,000 Woolworths Rewards points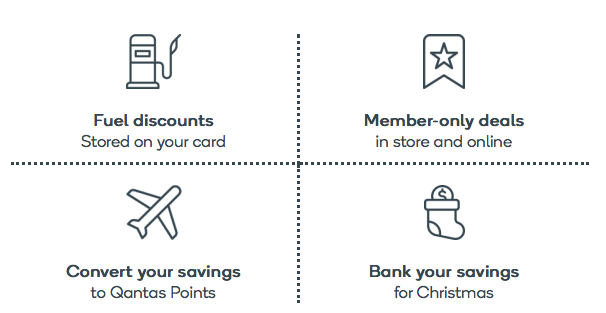 How many points will you earn?
For each dollar spent:
You'll earn 1 Woolworths Rewards point, equivalent to 0.5c in cash discount
This equates to 0.435 Qantas Points per dollar spent (870 Qantas Points per 2,000 Woolworths points)
Comparing to the Coles-flybuys partnership, for each dollar spent:
You'll earn 1 flybuys point, equivalent to 0.5c in value (same as Woolworths)
This equates to 0.435 Velocity Points
It is nice to see that the supermarkets have really innovated and differentiated themselves from each other (sarcasm fully intended).
Note that you will not earn any points on smoking products, gift cards, mobile recharge, Woolworths Mobile, travel cards and tickets, delivery charges, internet cafes, Carpet Care, Woolworths Flowers or lottery products.
You can also earn bonus points from offers sent to your inbox.
What does this mean in terms of points values?
As we've discussed in depth before, valuing your points is really important for you to make an informed decision on how you earn and use them.
Because you have a cash equivalent for your Woolworths points (a discount off your shopping), we can unequivocally say that each Qantas Point you earn is costing you 1.1c.
Why? 2,000 Woolworths points = $10 in Woolworths credit or 870 Qantas Points. You are forgoing $10 in credit to pick up 870 Qantas Points, so each Qantas Point is being earned at 1.1c each.
Is this a good deal? Well, it's OK. I usually value my Qantas Points higher than 1.1c, but not by much more.
If you are points-rich, then it's probably worth taking the cash; if you want more Qantas Points, then it is not a bad rate at which to acquire them.
How to save time by tapping your iPhone or Apple Watch at the checkout
Instead of having to scan your plastic Woolworths Rewards card to earn Woolworths Rewards points (convertible to Qantas Points), you can add your card to Apple Wallet.
All you need to do is go to the Woolworths Rewards website on your device, log in and you'll see the option to add your card to Apple Wallet: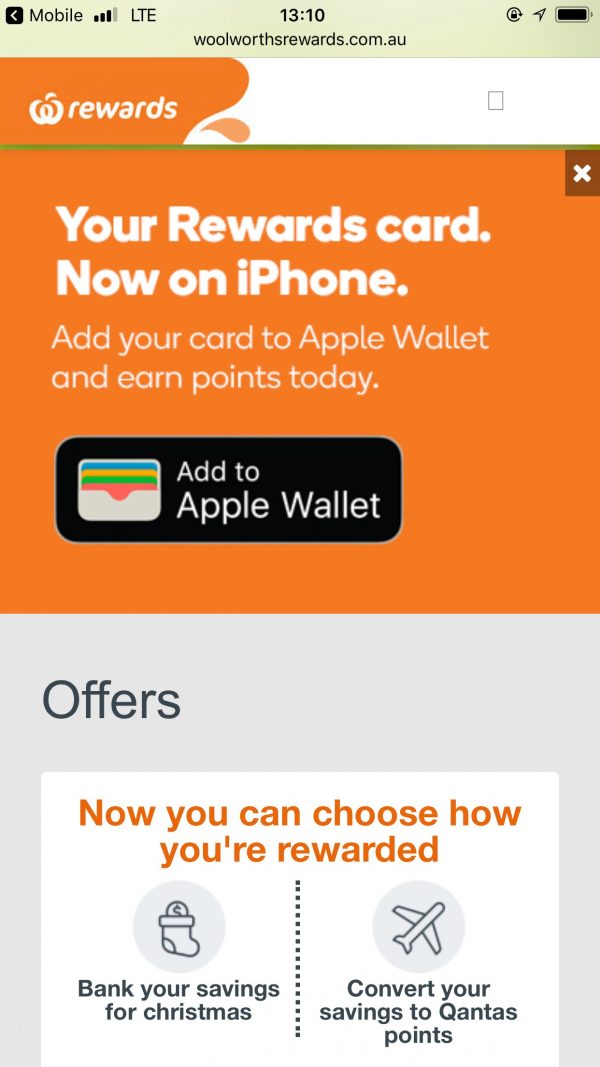 Follow the prompts and then you'll be able to earn points at the checkout by just double-clicking the Home button (you don't have to unlock the phone), selecting your Woolworths Rewards card, tapping it on the credit card terminal and verifying your identity with your Touch ID or Passcode.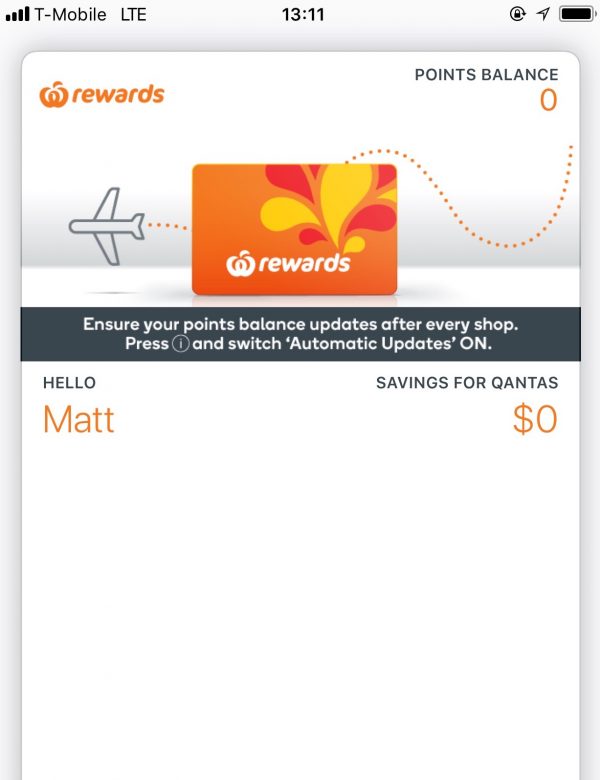 Important notes:
This is currently only available to iOS device users but Woolworths plans to roll this option out to Android and other users
This option does not work at petrol stations, Big W, Dan Murphy's or at stores in Tasmania, so to get your fuel discount, you still need your plastic card
You do not need to be connected to the internet to scan your card but you do need to be connected to register in the first place
You can have multiple Woolworths Rewards cards on one device
You can still use your plastic card as normal
Here is the FAQ page.
What about previous versions of the program?
I have avoided a comparison to the old Everyday Rewards program so far, to avoid drawing any negative conclusions about Woolworths Rewards to this point. The old Everyday Rewards program had almost double the Qantas Points earn rates, but only on basket sizes over $30.
But that just doesn't matter—there is no chance of the old program coming back, so we won't waste any more time thinking about it.
Worth noting is that the new program at least allows you to earn points on smaller transactions, which is a bit of a behaviour change if you were used to trying to batch your grocery shopping to get over the $30 minimum threshold before—you don't need to worry about that now.
Summing up
Previously, this program was not appealing enough to really make shopping at Woolworths to earn Qantas Points a complete no-brainer.
Neither Coles or flybuys had a standout feature which meant you should absolutely choose one program and supermarket over the other.
However, if you are doing your grocery shopping online, then the bonus Qantas Points available may sway your decision.
It is worth remembering points earn opportunities from using a credit card that offers bonus points for supermarket shopping will usually outweigh bonus points offerings from the supermarkets themselves.
Great offer: earn over 4 bonus Qantas Points per $ spent at Woolworths until Sunday
was last modified:
August 20th, 2019
by