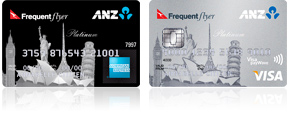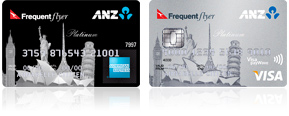 Now this offer personally doesn't interest me as it's a little below my value threshold for points. It's a decent size signup bonus, but a hefty annual fee for the latest offer from ANZ – offering 32,000 bonus points off a $295 annual fee for their Platinum Qantas cards. The bonus is awarded on approval, so there's no minimum spend required.
Qantas have been promoting this pretty extensively online and ANZ have also been advertising it in the media, so you may already know about it. Personally, I'd rather look at that 40,000 points for $149 on the CitiBusiness Gold Visa I covered last week, which also come with the flexibility of having the points in Citirewards – but if you have clout with ANZ you might be able to negotiate the annual fee down and keep the bonus.
The points earn rates aren't good either – 1.5 Qantas points/$ on the Amex is great – as good as Amex's own $450 fee Qantas Ultimate card – but the Visa comes in at 0.5/$, which is about as poor as it gets in the market now for a Visa. ANZ should really make this 1:1 to compete.
The offer expires on August 31st. Could be worth taking up if you're really keen to hunt down some points at the minute, but otherwise I'd hold off.
ANZ Platinum Amex/Visa – 32,000 point signup bonus, $295 annual fee
was last modified:
October 23rd, 2012
by