If you use Wilson Car Parks with any regularity, signing up for this promo before the end of April can get you some Velocity Points plus save you time.
On this page, we collate the best deals to earn you bonus Velocity points on travel and everyday products.
Offer 1: Earn 1000 bonus Velocity Points + $50 parking credit when signing up for Wilson One
Offer 2: Earn 1000 bonus Velocity Points for first AirActive booking and 50 points for subsequent bookings
Offer 3: Earn up to 20,000 Velocity Points on new EnergyAustralia plans; easy bonus points + $100 voucher for current customers
Check out our ideas on the best uses of Velocity points.
Offer 1: Earn 1000 bonus Velocity Points + $50 parking credit when signing up for Wilson One
When signing up for a Wilson One account before 30 April 2017, you'll receive 1000 bonus Velocity Points plus $50 parking credit.
Ongoing, you'll earn 2 Velocity Points per $ spent.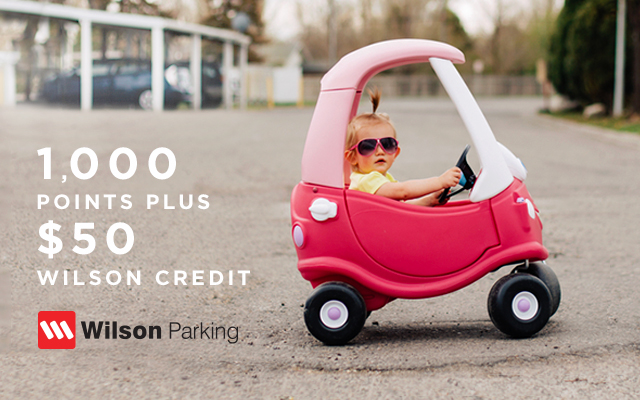 Things to be aware of:
Although not outlined in the terms and conditions, there is a chance applying for an account could check your credit record which may alter your credit score – the product offers post-pay of parking charges, and the application asks for personal details which could be used for a check. If anyone finds this is not the case we'll remove this warning!
Only open to new individual customers that have not held a Wilson Parking account within the past six months
You are not eligible to earn Velocity Points when using the $50 credit
Points post within 35 days of payment
There is also a separate promotion to earn 5 Velocity Points per $ spent on pre-planned Book A Bay packages.
---
Offer 2: Earn 1000 bonus Velocity Points for first AirActive booking and 50 points for subsequent bookings
AirActive is a service provider through whom you can book individual exercise activities and classes without having to sign up for a gym membership.
AirActive has joined up with Velocity to offer 1000 Velocity points for the first eligible activity booked and 50 points for every subsequent booking.

We value Velocity Points at 1.9 cents a piece, and with the cheapest AirActive activities seeming to start at $11.50 each, that means you are effectively purchasing 1000 Velocity Points at 1.15 cents each, which is good value, and that doesn't include the value you get from the exercise itself.
Here are the steps:
Book an eligible activity (anything except a Community Service activity, which includes general swimming pool access, youth programs, and seniors programs)
Include your Velocity membership number at checkout each time you make a booking
Points take up to 21 days to credit.
There doesn't seem to be an expiry date on this promotion.
---
Offer 3: Earn bonus Velocity points on new and existing EnergyAustralia plans
First of all, let's make sure your eligible for this promotion:
You must live in New South Wales, Victoria, South Australia, the ACT (all electricity and gas) or Queensland (electricity only)
You must agree to receive your bills and correspondence by email, and pay your bills by direct debit
New customers
Until 3 May 2017, you'll earn 10,000 bonus Velocity points for signing up to a new Anytime Saver electricity plan and/or 10,000 points for Anytime Saver gas plan.
After the launch period, the bonus points will be halved to 5,000 per plan.
Current customers
If you were an EnergyAustralia customer as of 22 February 2017, there are two benefits available to you:
If you are not yet a Velocity member, sign up for a Velocity account through this link and you'll earn bonus 1,000 Velocity points
Whether you are a new or existing Velocity member, link your EnergyAustralia and Velocity accounts to earn a $100 Virgin Australia Holidays voucher (emailed within ten business days and must be used within six months), plus a 2,000-point anniversary gift each year you hold an EnergyAustralia account
For customers looking for a new electricity or gas plan, this promotion running until May could help sway your decision.
Existing customers will probably find it worth their time to take a couple of minutes to link their EnergyAustralia and Velocity accounts for a $100 voucher and ongoing 2,000 bonus points every year.