Singapore Airlines' First Class Suites, available exclusively on Airbus A380 flights, is one of the most aspirational premium products in the world and best uses of KrisFlyer miles.
Their regular First Class product on Boeing 777 aircraft is also quite luxurious but a step down from the A380 offering.
In welcome news, Velocity Frequent Flyer has announced that you can now use your Velocity points to book First Class seats on Singapore Airlines without having to transfer your points to KrisFlyer.
How can I book an award seat in First Class or Suites Class?
You now have two options for using points for Singapore Airlines First Class award seats:
book through KrisFlyer
book through Velocity
Previously, Singapore Airlines did not release any First Class award space to its partners, meaning that you had to redeem through their own KrisFlyer program. However, under partner changes announced by Velocity in July 2017, you can now use Velocity points to book these seats too.
A one-way First Class ticket from Sydney/Melbourne to Singapore will set you back 80,000 KrisFlyer miles or 95,000 Velocity points + ~$90 in taxes (it's about $20 cheaper the other way around.)
Previously, you had to transfer 108,000 Velocity Points over to KrisFlyer through their unique partnership but now you can save 13,000 Velocity points by booking directly through Velocity.
I've updated my comparison of pricing between Velocity and KrisFlyer to show that it is a 50-50 split in being cheaper to redeem directly through Velocity or transferring your Velocity points to KrisFlyer for First/Suites Class redemptions depending on the route.
What does remain to be seen is if Velocity has access to the same First/Suites Class award inventory as KrisFlyer's own members, or if it is more restricted. I'd lean towards the latter.
How to book First/Suites Class awards on Singapore Airlines
Changes to Suites Class
Due to competition mainly from the ME3 (Middle East Three) airlines – Emirates, Etihad and Qatar Airways – Suites Class is being switched up quite significantly in 2017.
Currently, Singapore Airlines has 12 First Class Suites in a 1-2-1 configuration. You can expect to enjoy excellent customer service, delicious food and a wide beverage selection, including Dom Perignon and Krug. The lie-flat bed turn-down service is with Givenchy linens.
With the leak of a test seatmap of the new product on the Singapore Airlines website, it seems that they will be halving the amount of Suites to six but moving to a 1-1 configuration. This will have a negative effect on award availability as there will be less seats to go around.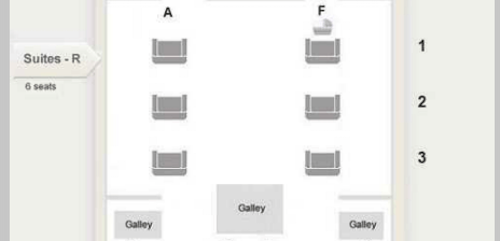 The most comparable product is Etihad's First Apartments (also on the A380) but it may be that Singapore Airlines will make each Suite even bigger by hosting only six Suites instead of Etihad's nine Apartments (plus the three-room The Residence).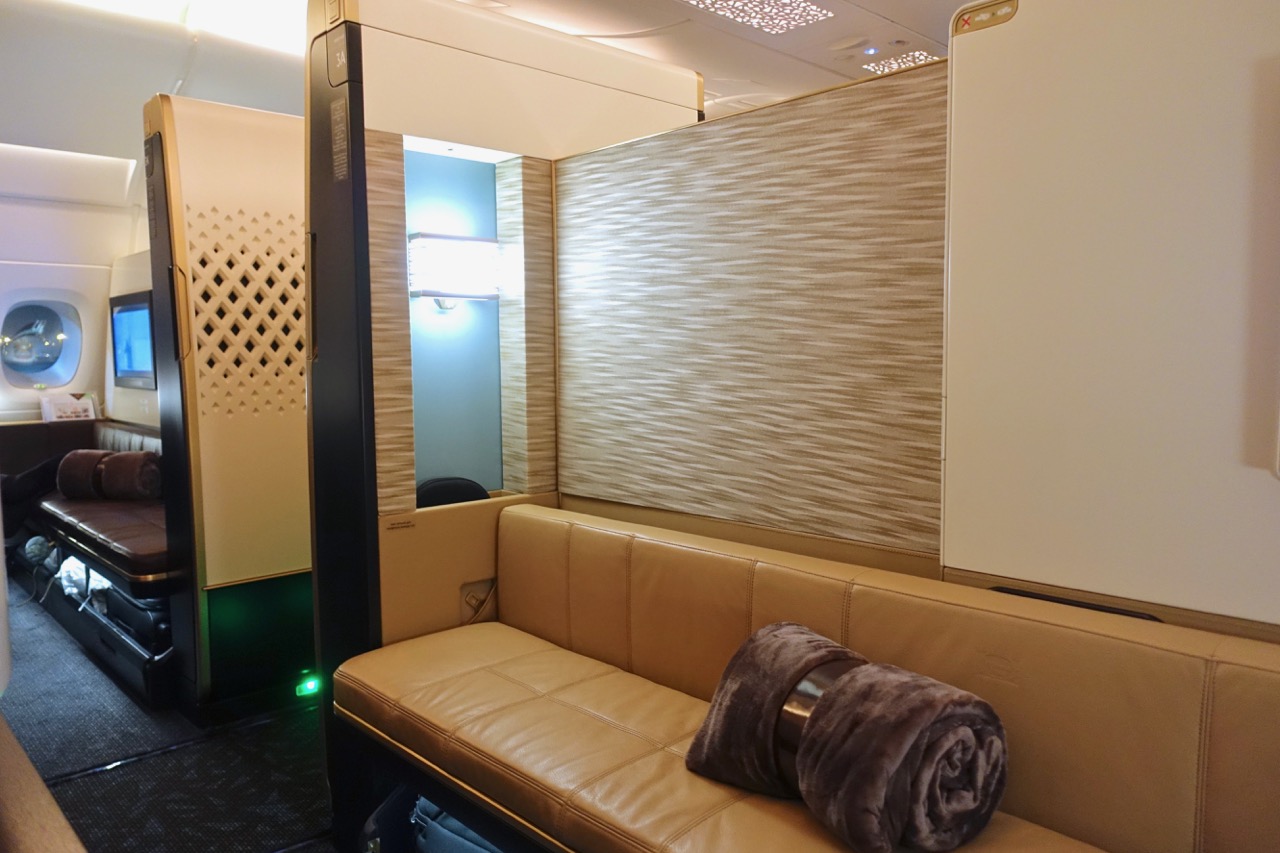 Etihad's First Apartment
First Class will move from the lower to the upper deck.
What isn't changing?
It seems there will be no showers nor an onboard bar or lounge, although that could change.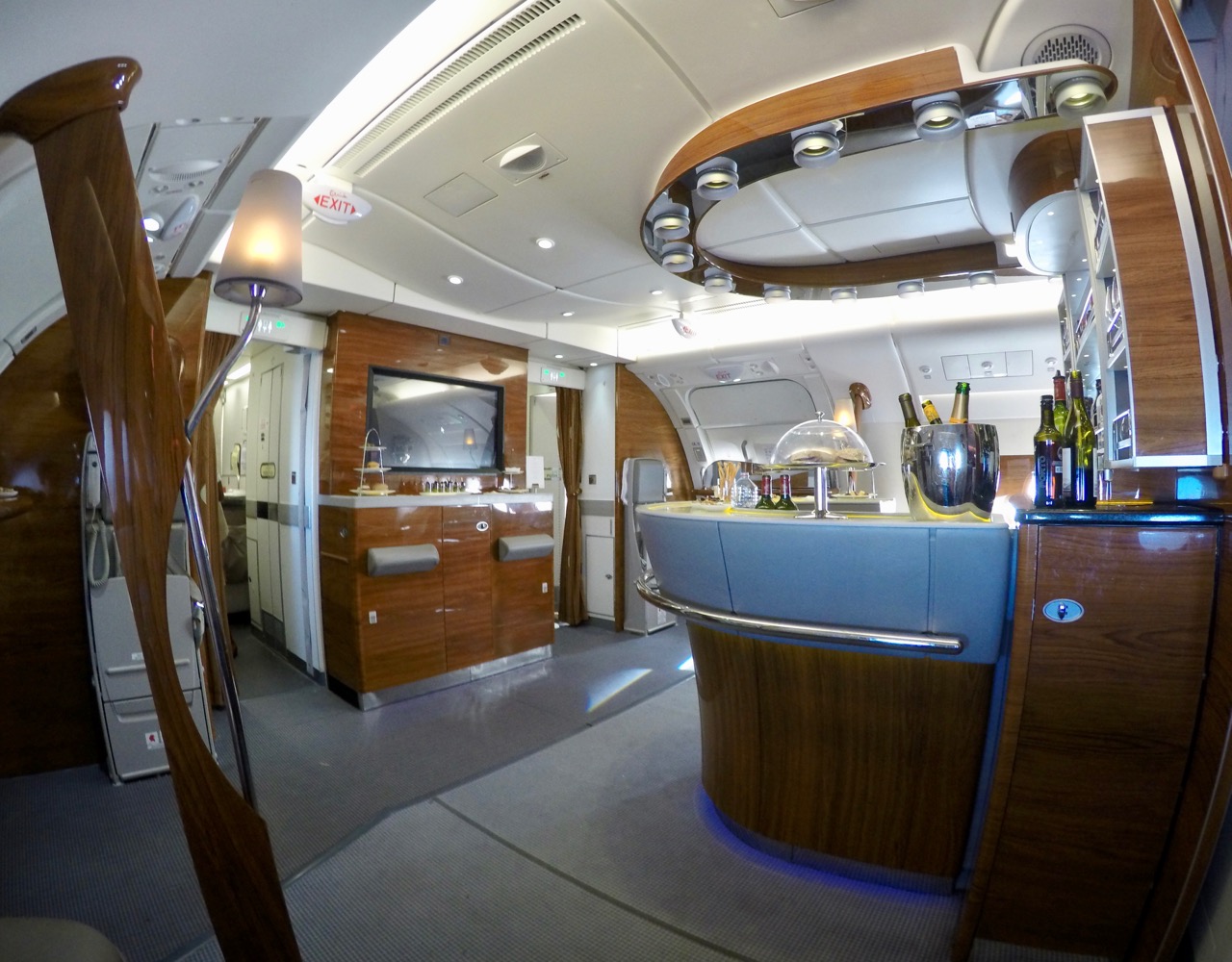 The onboard bar on the Emirates A380
The current Suites class allows centre seats to form into a double bed but with the 1-1 configuration, the only way that could happen is if the Suite was combined with the one behind or in front of you, which doesn't seem very practical.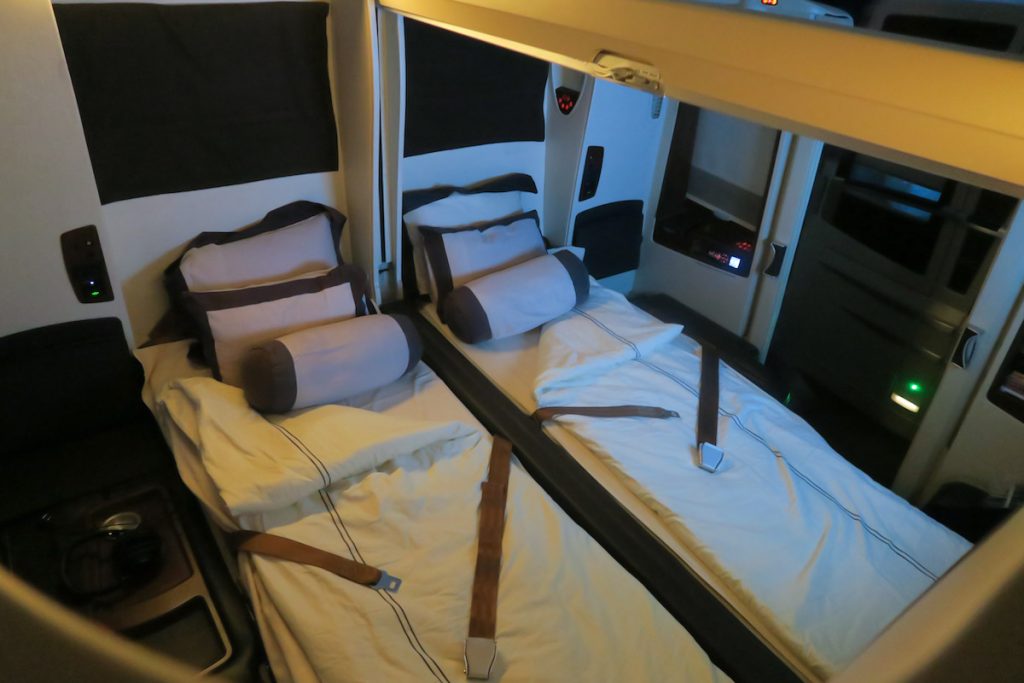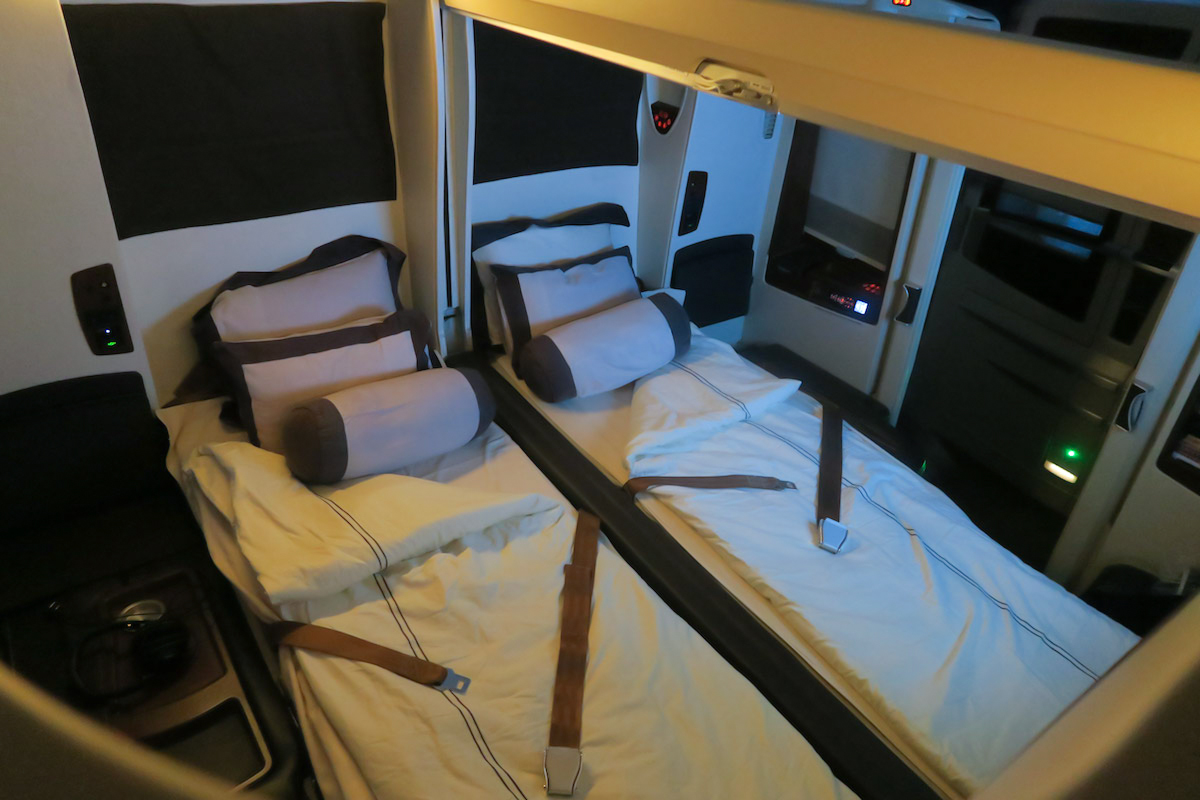 The double bed option in the current A380 layout
Business Class will essentially stay the same.
When will the change happen?
Sydney was the launch destination of Singapore's A380 flights on 25 October 2007 and word is that they would like to debut the new A380 on the same route ten years later, i.e. October 2017.
London Heathrow is tipped to be the next destination, followed by the other current A380 routes, which are:
Melbourne
Hong Kong
Beijing
Shanghai
Mumbai
Delhi
Paris
Zurich
Frankfurt and onto New York JFK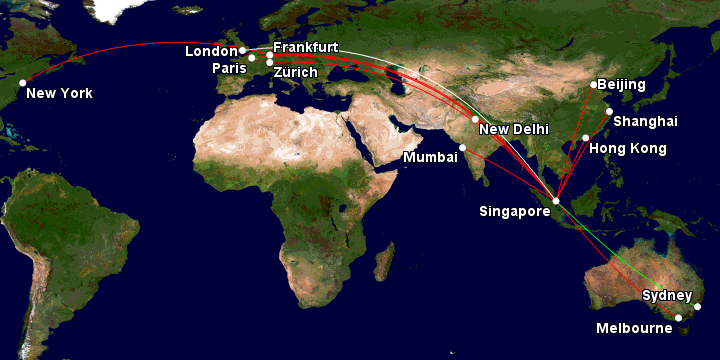 Singapore Airlines A380 routes as of April 2017
Singapore currently flies the A380 on two of its four daily flights to and from Sydney (the other two are on Boeing 777s.)
With no guarantees, if you are keen to try out the new product, then booking a seat on one of these flights after the changes are slated to come into effect may mean that you could be transferred to the new plane when further details are released.
Summing up
Singapore Airlines has a solid reputation for attentive customer service and excellent premium cabin products.
The new Suites Class is an exciting development but due to the increased space of each unit and thus decrease in the overall number of Suites, one could expect award space to start tightening up.
That means that if you want to enjoy the Suites experience, it may be better to do it sooner rather than later, and it is great news that Velocity members can now save some points in booking directly through Velocity instead of having to transfer their points to KrisFlyer to access Singapore Airlines First Class.
H/T: One Mile At A Time
Supplementary images courtesy Singapore Airlines.
You can now use your points to book Singapore Airlines First Class flights directly through Velocity
was last modified:
July 14th, 2017
by