Hilton HHonors current points purchase promo bonus has been extended until 31st October – this can be leveraged into cheaper Hilton hotel stays. HHonors is currently offering up to a 100% bonus on purchased points.
The bonus is available to all members, and if you purchase at least 20,000 points or more, you get the maximum 100% bonus which brings down the cost to 0.5c US per point.
This can represent good value for topping up points balances for specific redemptions, but these offers aren't usually great for using speculatively.
The current bonus offer is tiered but is relatively easy to access the 100% bonus. You will receive 80% bonus points on purchases starting from 10,000 up to 19,000 points and 100% on purchases from 20,000 points and above. The maximum amount you can buy on this offer is 160,000 points including the bonus for $800 USD.
You should run the maths in advance and see if room redemption costs and availability will work for you to buy HHonors points instead of paying cash.
Once you've clicked through, you'll need to sign into your account and the bonus will be visible.
Buying Hilton HHonors points to redeem for cheap hotel stays.
The usual price set by Hilton is 1c USD per point, including taxes. Previously they have been sold for:
September 2016: up to 100% bonus, 0.5c per point
August 2016: up to 50% discount
July 2016: 0.55c per point
April to June 2016: 0.5c per point
February 2015: 0.56c per point
September 2015: 0.57c per point
May 2015: 0.5c per point
Using purchased Hilton HHonors points
As with all hotel points purchase opportunities, you'll need to have a specific hotel and dates in mind to compare the paid rate in cash, with how many points you'd need to buy.
Hilton Hotels are priced in a wide range of categories, ranging from 5,000 points up to 95,000 points per night. The points price also varies slightly based on the month of the year you are booking in.
You'll want to keep an eye out for hotels which are priced high in cash, but low in their category banding.
Here's a shortcut to seeing all of the Hilton Hotels in Australia and their associated points pricing.
The cheapest in Australia are the Doubletree by Hilton Cairns and Doubletree by Hilton Alice Springs – both available from 30,000 HHonors points per night, or $150 USD per night in the current promotion.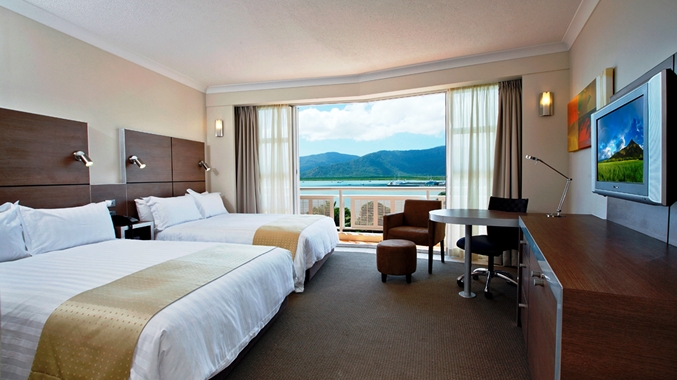 The Doubletree by Hilton Cairns. Image courtesy of Hilton.
At a global level, you'll find some hotels which are in much cheaper categories if you look in less popular or cheaper destinations. You'll be able to see which category any hotel is in on their page on the hotel's page on the Hilton website.
If you have time and travel flexibility and are looking for some real deals, here are a couple of links to all Hiltons in the cheapest categories:
Bear in mind that points bookings come with booking flexibility and free refunds, so make sure you factor that in your price comparison.
Notable restrictions
You can purchase a maximum 80,000 HHonors points per account before bonuses per calendar year
Summmary – this Hilton HHonors promotion
This deal works best if you have some specific travel plans in mind, and can check the paid rate of a Hilton at your intended destination vs what it would cost to buy and redeem points.
While the offer is particularly good, it's probably still not quite worth buying points speculatively for without a specific use in mind.
I am personally not a massive Hilton loyalist. Don't ask me why, but there are only so many programs you can engage in, and HHonors isn't one of them for me.
That being said, I'd love to hear how you guys are using this promotion – please leave a comment if you redeem for a great deal.
Credits: