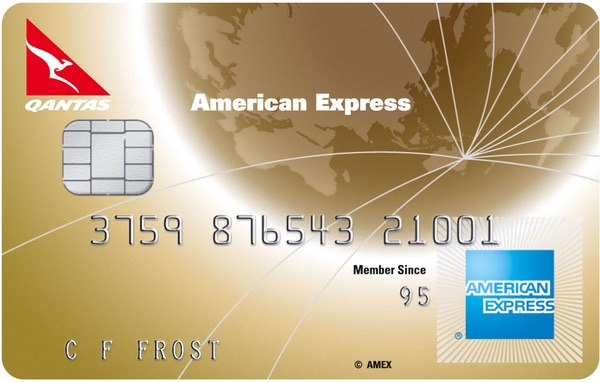 The Qantas American Express Premium card has 30,000 bonus Qantas Points, offers 2 points per $ at supermarkets and for fuel, and comes with 2 Qantas Club invitations each cardholder year.
30,000 Qantas Points for new applicants after meeting spend requirements
Two free Qantas Club lounge invitations each cardholder year after first spend with Qantas
Domestic and International travel insurance, plus a range of purchase protection insurances
2 Qantas points earned per $ spent at supermarkets, petrol stations, and with Qantas, and 1 point per $ everywhere else except for utilities and the ATO
0% p.a. on balance transfers for the first 12 months, with a 1% establishment fee - maximum balance transfer is $10,000 or 70% of your approved credit limit, whichever is less
$249 p.a. annual fee
Minimum spend of $1,500 in the first 3 months of card ownership for 22,500 Qantas Points, plus 5,000 Qantas Points after your first spend and 2,500 Qantas Points after your first spend in Australia on selected Qantas products and services
Card Members who currently hold or who have previously held any other Consumer Credit Card product issued by American Express Australia Limited in the preceding 18 month period are ineligible for this offer
Read the Qantas Premium American Express guide →
Point Hacks earn a maximum of $160 per applicant for this card. More about this →
American Express' Qantas Premium is back to offering a 30,000 Qantas Points bonus, down from previous months.
22,500 Qantas Points will show up after $500 spent on the card in the first two months of ownership, a further 5,000 after your first purchase alone, and a final 2,500 Qantas Points after your first spend with Qantas.
There's also 2 Qantas Club invitations each cardholder year included with the card, and offers a neat benefit of 2 Qantas Points per $ earned at supermarkets, on fuel and with Qantas, and 1 Qantas Point per $ everywhere else (except for utilities / ATO).
With a $249 annual fee this is a useful card for committed Qantas Points earners, given that the supermarket and fuel bonus offers the potential to boost your points earn significantly over a standard 1 point per $ card.

Card Details
| | |
| --- | --- |
| Card | Qantas American Express Premium |
| Loyalty program | Qantas Frequent Flyer |
| Points earned from spend | 2 Qantas Points earned per $ spent at supermarkets, for fuel and with Qantas, 1 Qantas Point per $ spent everywhere else, except for Utilities and the ATO |
| Points cap | None |
| Travel benefits | Two free Qantas Lounge passes each year |
| Included insurances | Domestic and International travel insurance cover, purchase and refund protection |
| Overseas transaction fee | 3% of the converted amount |
| Annual fee | $249 |
Digging into the details of the Qantas American Express Premium card
One of the Qantas Premium card's biggest benefits, in my view, is the increased earn rate at Supermarkets and for Fuel, which is where many consumers will spend a significant proportion of their credit card spend.
The bonus points partners are similar to the American Express Platinum Edge, as follows:
Supermarkets qualifying for bonus points with American Express
Bi-Lo
Coles and Coles Online
IGA and Foodland
Flemings
Safeway
Woolworths and Woolworths online, Thomas Dux & BigW
Food For Less
Fishers
Fresh Provisions
Macro Wholefood
Superbarn
Franklins
Harris Farm Markets
Petrol stations qualifying for bonus points with American Express
Coles Express
Ampol
Shell
7-Eleven
BP
Safeway Petrol
Woolworths Petrol
Peak, Gull
Caltex, Caltex Woolworths
Mobil, Quix
The 2 Qantas Points per $ earned with Qantas spend is a welcome addition for anyone who spends cash, not just points, with Qantas.
The reduced earn rate of 0.5 Qantas Points per $ applies for utility payments, insurance, telecoms and government payments such as the ATO, Australia Post, and councils – this is common to most other American Express-issued cards.
The American Express Platinum Edge or David Jones Platinum American Express also both earn bonus points at Supermarkets and for Fuel.
The David Jones Platinum card also has a slightly higher annual fee at $299, but will earn 2.25 Qantas Points per $ on Supermarket / Fuel. If you're gunning for maximum Qantas Points across the board, the Premium could work out a better option with the improved earn rate for all other spending.
The Qantas Premium Card offers a higher base rate of Qantas Point earn than the David Jones card, with 1 point per $ on the Premium vs 0.75 points per $ on the David Jones.
Two Qantas Club invitations each cardholder year
The Qantas Club invites can be used at any domestic Qantas Club in Australia, or for international Qantas Business Class lounges such as those in Sydney, Melbourne, Hong Kong, or Singapore.
That group of international lounges would be my pick for maximising the value of the lounge pass, as Hong Kong and Singapore all offer varying degress of on-demand dining and bar-service, and are well designed with good facilities. Unfortunately the passes aren't usable in the shared Qantas lounge in Los Angeles.
Aim to use the lounge passes where they will be most useful to you. If you have a need to spend a lot of time in a domestic airport, then use them there instead.
The passes will be valid for a year (and have an end date printed on them), and will be offered once you have first spent with Qantas using the card. They don't need to be used by the cardholder, so can be gifted to others.
Included Insurances
American Express also include a range of travel and purchase protection insurances, including domestic and international travel cover, refund and purchase protection.
The full set of terms and the PDS for these products is here – you'll need to look through and see if they will be useful to you.
This guide references some of the benefits of insurance policies provided with this credit card.
You should read the PDS and obtain independent professional advice before obtaining this product.
Eligibility criteria for bonus points for existing American Express cardholders
American Express are quite specific about whether existing cardholders will be eligible for bonus points if they apply for a card, are approved, and meet the minimum spend criteria.
Firstly, if you hold a bank-issued American Express – e.g. from Westpac or from ANZ – that alone won't affect whether you're eligible for bonus points with an American Express branded card offer. There's more in our guide to this here.
If you do already hold an American Express-issued card, then the type you hold impacts whether you're eligible for a new cardholder bonus. American Express offer consumer (or personal) credit cards, consumer Charge cards, and business credit cards. If you hold a card in one of these categories and apply for a card in the same category, then you won't be eligible for a bonus.
However if you hold a card in one category and apply for a new card in a different category, then you are eligible for the signup bonus. We've explained this in more detail here.
Summing up – Qantas American Express Premium
One of the key benefits of this card, is the bonus points at Supermarkets and for Fuel.
The Qantas lounge invites are a nice addition to the offering, if you or a friend or family member will get good use out of them.
Otherwise, the $249 fee represents similar value to other American Express cards on the market offering this level of points earn and additional benefits, and the current signup bonus makes this a particularly attractive offer.
Point Hacks Credit Card Information
Point Hacks is published by Newformula Media. Newformula PTY LTD (ACN: 609 361 051) is a credit representative (486568) of Eurofinance Corporation Pty Ltd (Australian Credit License: 393845). In some instances, Newformula PTY LTD receives a commission or benefit for referring you to the services of a credit provider. This commission or benefit is disclosed at the point of referral to the credit provider. This website does not provide credit or advise you to apply for credit assistance from any particular provider.
We have not taken into consideration your circumstances or financial situation when providing the information on this website. It is important you read the relevant PDS from the product issuer and seek the independent advice of an appropriately qualified professional before making a decision on a product.