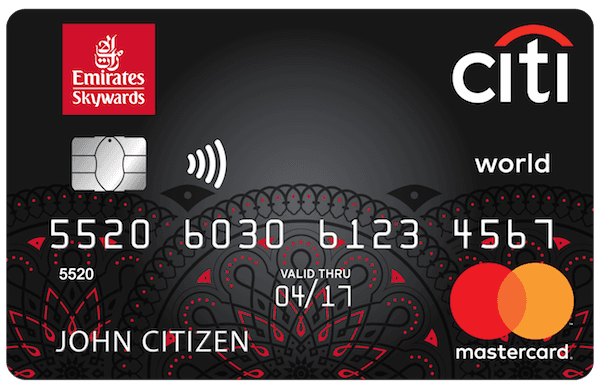 The Citi Emirates World Mastercard has up to 50,000 bonus Emirates Skywards Miles with a halved first year annual fee on offer. This is the only direct-earn card in the market for Emirates Skywards miles with lounge passes, Emirates limo transfers, and complimentary travel insurances.
50,000 Skywards Miles
Complimentary Emirates lounge and chauffeur transfer each year
1 Skywards Mile per $1 on eligible Domestic Spend up to $3,000 per statement period, and then 0.5 Skyward mile per $1 spent up to $10,000 per statement period
1.25 Skywards Miles per $1 on eligible International Spend (uncapped)
0% p.a. on balance transfers for 9 months
$149 annual fee for first year (halved)
Offer expires: 31st August 2017
Spend using your card in the first 90 days to receive 40,000 Skywards Miles, and spend a minimum $500 on emirates.com during the same period to receive additional 10,000 miles
Read the Emirates Skywards MasterCard guide →
Point Hacks earn a maximum of $88 per applicant for this card. More about this →
The Emirates World Mastercard from Citi has 50,000 bonus Emirates Skywards Miles on offer, with 40,000 bonus miles after using the card within the first 90 days after approval, and another 10,000 miles when you spend at least $500 on emirates.com.
The card comes with Starwood Preferred Guest gold status, and also includes two Emirates lounge passes and one airport limo transfer each cardholder year (when flying Emirates).
The current offer also has a halved annual fee of $149, so this card and offer could work for those looking to use the bonus points for a Skywards redemption on a shorter Emirates flight, or who have a Skywards miles balance to build on.
Note there's a $75k pa minimum income requirement for applicants to this card.
The 50,000 bonus miles is probably best redeemed for a return upgrade from Economy to Business Class on Emirates services across to New Zealand from the East Coast if you don't have an existing balance – and this card is mostly best for heavy Emirates travellers.
50,000 Skywards miles can be leveraged into the following redemptions across the Tasman, from Sydney, Brisbane or Melbourne to Auckland or Christchurch:
36,000 miles for return in Economy – poor value here though, in my opinion
32,500 miles for a return upgrade to Business Class from Economy – good value
Card Details
| | |
| --- | --- |
| Loyalty program | Emirates Skywards |
| Points earned from spend | 1 Skyward Mile per $1 on eligible Domestic Spend, 1.25 Mile per $1 on eligible International Spend and 2 points per $ spent directly with Emirates |
| Points cap | Earn rate drops to 0.5 Skywards Mile per $1 on eligible Domestic Spend after $3,000 spent each statement period up to $10,000 |
| Earns points at ATO | No |
| Travel benefits | Each year: Emirates lounge passes and airport limo transfers when flying Emirates plus Starwood Preferred Guest gold status |
| Minimum income | $75,000 |
| Included insurances | Travel and purchase protection insurances (PDS) |
| Overseas transaction fee | 3.40% of the converted amount |
| Annual fee | $299 |
Guide to the Emirates Citi World Mastercard
The earn rate on eligible Domestic Spend is 1 Skyward miles per $1 for the first $3,000 spent each statement period, dropping to 0.5 Skywards miles per $1 spent up to $10,000 per statement period.
This is one of the better earn rates for Skyward miles on the market for regular spend – but Skyward miles are not the most valuable currency out there, so you'll have to really want these miles to go for this card.
There's also 1.25 Skywards Miles per $1 on eligible International Spend which is uncapped, along with a spend bonus of 1.5 Skywards Miles for every $1 spent on airline tickets purchased via emirates.com.
The annual fee is usually $299, and supplementary cardholders are free.
It's really a card that will be most appropriate for those who spend heavily on bookings directly with Emirates with the 2 Skywards miles per $1 on offer on Emirates spend.
This could work well for business-owners who have a need to book flights directly with Emirates for their staff. The vouchers for lounge access and the limo transfer benefit could also be useful in this context as they can be given to others to use too.
World MasterCard Starwood Preferred Guest Gold Status
One of the core benefits is the addition of Starwood Preferred Guest Gold status, which for stays at Starwood properties, should yield a better room, 4pm late checkout, and an additional Starpoint earned per US $ spent.
This is through the 'World Mastercard' program – and there are more benefits to holding a World Mastercard outline here. In order to attain Starwood Gold, you'll need to complete one paid stay in the Asia Pacific region with Starwood.
Some people who are looking to earn Skywards miles from day-to-day spend may be better off with a Membership Rewards card from American Express thanks to their recent partnership with Skywards which allows you to transfer Membership Rewards points to Skywards miles at 1 MR to 0.75 Skywards, but if you are really committed to Emirates, this card could be the way to go.
Emirates specific benefits with the Citi Emirates Skywards Mastercard
The two Emirates lounge access vouchers are valid for the primary cardholder, travelling on an Emirates flight, for use in Australian lounges. The primary cardholder can use both pass for themselves, or both passes at once for themselves and a guest.
You'll of course need to be travelling in Economy to make use of the voucher too, as Business and First Class travellers get access to the Emirates lounge by virtue of their ticket.
This benefit has recently changed – it used to be one voucher for the primary cardholder and a guest, and for long-haul flights only.
You'll now get two vouchers per year, and you can't bring any additional guests into the lounge, so using it on a family trip is a no go. The vouchers do now seem to be valid for Trans-Tasman flights with Emirates however.
You'll also get access to an Emirates chauffeur-driven transfer 'to and from the airport' in Australia once per year as a cardholder. The terms are not clear as to whether this is a single transfer on one trip, or whether it's a return transfer – the 'two and from the airport' language is ambiguous, and the terms state the benefit is 'once per calendar year'. We're trying to get this cleared up and will update this guide when we know more.
Either way, this is still a valuable benefit if you know you'll use it, and transfer is probably worth valuing around ~$100 each depending on how far you live from the airport.
Other benefits
The Citi Emirates Skywards Mastercard also gains access to the Citi dining program where you'll get a bottle of wine at participating restaurants. From what we've seen, the execution and value of this program is mixed, so not a benefit to bank on.
There's also a set of insurances on offer for purchases made on the card, such as International Travel Insurance and Transit Accident coverage. Read the full PDS here.
This guide references some of the benefits of insurance policies provided with this credit card.
You should read the PDS and obtain independent professional advice before obtaining this product.
Conclusion
The Emirates benefits and SPG Gold status with the Emirates World Mastercard is going to appeal most to the infrequent, but committed Emirates traveller. Usually the card wouldn't be for everyone, and not even for the average Skywards member only given it's relatively high annual fee for the benefits on offer.
If you're interested in how the numbers stack up for earning Skywards Miles vs Qantas Points with your Emirates flights, then I've run a comparison on this here.
It does have it's place for those who fly exclusively on Emirates network frequently, and who buy their own tickets for themselves (and others to do the same), given the bonus points and perks on offer with Emirates. The lounge access and airport transfer benefits are then the cream on top of the chunky 2 miles per $ earn rate on Emirates spend. If this is you, it's worth considering.
Emirates Citi World Mastercard has 50,000 bonus Skywards Miles on offer, Starwood Gold status, Emirates lounge and limo benefits with 1/2 annual fee
was last modified:
July 4th, 2017
by
Point Hacks Credit Card Information
Point Hacks is published by Newformula Media. Newformula PTY LTD (ACN: 609 361 051) is a credit representative (486568) of Eurofinance Corporation Pty Ltd (Australian Credit License: 393845). In some instances, Newformula PTY LTD receives a commission or benefit for referring you to the services of a credit provider. This commission or benefit is disclosed at the point of referral to the credit provider. This website does not provide credit, assist you in obtaining credit, or advise you to apply for any particular product from a provider.
We have not taken into consideration your circumstances or financial situation when providing the information on this website. It is important you read the relevant PDS from the product issuer and seek the independent advice of an appropriately qualified professional before making a decision on a product.
While we invest a great deal of time and energy into ensuring we provide with you with the most up to date and accurate information, we do not warrant the accuracy of statements or information contained on the Website relating to third party goods and services, including credit card information, loyalty schemes and rewards. You acknowledge that such information and materials may contain inaccuracies or errors and we expressly exclude liability arising from any person acting on those statements or information to the fullest extent permitted by law. Where conditions or warranties are implied by law and cannot be excluded, our liability will be limited to the re-supply of information. You should confirm the accuracy of information provided on this Website with the third party product provider before acting on it.