The Citi Rewards credit card points program is a flexible credit card points program, with the Signature and Prestige Visa as the primary linked cards.
In March Citi reduced the rate at which you can transfer your points out to Velocity and KrisFlyer, so I've overhauled this guide accordingly to reflect the new transfer rates.
The upshot? With Citi being one of the first to make changes to their rewards program and linked cards, it's not possible to see yet which bank rewards programs are coming out as being most appealing. That said, there are still several unique benefits of Citi Rewards, especially for Prestige Visa cardholders, which are worth knowing about.
---
Digging into the details of Citi Rewards
Citi Rewards does continue to offer some of the highest points earning linked Visa options on the market with a flexible points currency.
You'll get a choice of earning points into either Qantas Points (under a direct earn arrangement called 'Citi Qantas Rewards', costing $49 per year, and with a monthly sweep of your points ), or into Citi Rewards – the focus of this guide.
If you prefer flexible points programs, where you can choose which frequent flyer or hotel loyalty program you want to transfer your points to at the time of making a redemptions – it's worth assessing whether Citi Rewards could work for your own ongoing spend and earn preferences.
The program has a couple of quirks, for example where a number of frequent flyer and hotel program partners are only available to the Citibank Prestige Visa cards, and bonus partners earn points at different rates depending on the card you hold.
The Citi Rewards Card Range
Citibank often offer the Prestige and Signature cards with different signup bonuses for Qantas points vs Citibank Rewards points, so keep an eye out to ensure you are signing up for the offer you want.
The Citi Prestige is the high end card of the Citi Rewards range, and has an annual fee of $700 along with a heap of travel benefits and partners.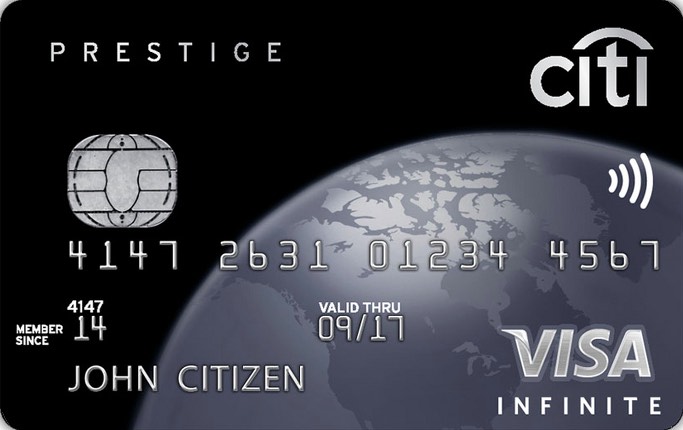 70,000 Citi Rewards Points are on offer with the Citi Prestige Visa when signing up and linking to Citi Rewards - you can transfer these points to Virgin, Krisflyer or Asia Miles.
70,000 Citi Rewards points after first eligible transaction
Ability to transfer points to Velocity, Krisflyer, Asia Miles or other international frequent flyer programs
Priority Pass lounge access, Visa Luxury Hotels service, and other premium benefits
2 Citi Rewards points earned per $ or 1 Qantas point per $, 5 Citi Rewards points per $ earned on overseas transactions
Points earn equivalent to 1 Velocity points or KrisFlyer miles per $ spent domestically, or 2.5 per $ spent on overseas transactions
0% interest p.a. on balance transfers for 6 months
$700 annual fee
$150,000 p.a. minimum income requirement
Offer expires: April 30th 2017
Read the Citi Prestige Visa guide →
Point Hacks earn a maximum of $280 per applicant for this card. More about this →
Card Details
Card
Citi Prestige Visa 'Infinite'
Loyalty program
Citi Rewards or Qantas Frequent Flyer via Citi Qantas Rewards
Citi Rewards earn rate
2 Citi Rewards points per $ spent domestically or 5 Citi Rewards per $ on overseas transactions
Velocity, KrisFlyer & Asia Miles effective earn rate
1 point/mile per $ on domestic spend, 2.5 points/miles per $ on international spend, when transferred from Citi Rewards at 2:1
Qantas Point earn rate
1 Qantas Point per $ spent, earned directly into Qantas Frequent Flyer each month
Points cap
None
Earns points at ATO
No
Travel benefits
Visa Luxury Hotels, Hilton HHonors Gold status
Ritz-Carlton & Starwood preferred booking benefits
Two limousine transfers per year
Priority Pass membership
Included insurances
Travel, purchase protection and warranty insurances (PDS)
Minimum income requirement
$150,000 p.a.
Overseas transaction fee
3.40% of the converted amount
Annual fee
$700 + $49 for optional Qantas Point opt-in
Then, the Citi Signature Visa usually comes in around half the annual fee of the Prestige, but also has some decent benefits.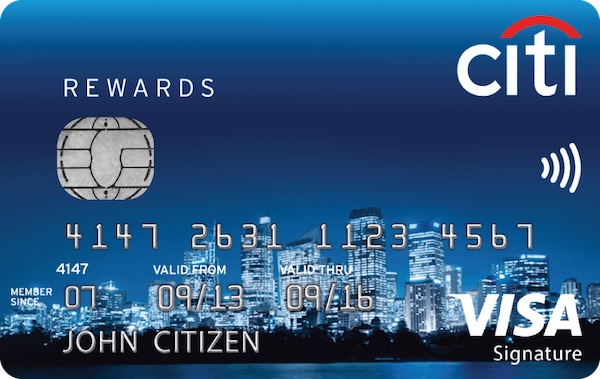 75,000 Citi Rewards Points are on offer with the Citi Signature Visa, convertible to 37,500 Singapore Airlines Krisflyer miles or Virgin Australia Velocity points, with an effective earn rate of 0.75 airline points per $ on spend.
75,000 Citibank Rewards points
0% interest p.a. for 6 months on balance transfers
Priority Pass lounge access and some other premium card benefits
Ability to earn Citi Rewards points where you can transfer points to Velocity & Krisflyer, or swap the card to Qantas Points down the track
1.5 Citi Rewards points per $1 spent - capped to $20,000 per statement period for domestic spend, uncapped for international spend
$199 p.a. annual fee first year, $395 ongoing
Offer expires: 30 April 2017
Spend on everyday purchases within the first 90 days to receive bonus points
Read the Citi Signature Visa guide →
Point Hacks earn a maximum of $160 per applicant for this card. More about this →
Card Details
Card
Citi Signature Visa
Loyalty program
Citi Rewards or Citi Qantas Rewards (+$49)
Citi Rewards earn rate
1.5 Citi Rewards points per $1 spent on eligible purchases
Velocity / KrisFlyer effective earn rate
0.75 points/miles per $ when transferred from Citi Rewards at 2:1
Qantas Point earn rate
1 Qantas Point per $ spent, earned directly into Qantas Frequent Flyer each month
Points cap
Citi Rewards points are capped to $20,000 per statement period for Australian spend, uncapped for overseas, OR

Qantas Points are capped up to $3,000 per statement period, 0.5 points per $ after, with international spend uncapped
Earns points at ATO
No
Travel benefits
Priority Pass lounge access and two included lounge visits
Annual fee
$395, but sometimes offered at $299 for life
Overseas transaction fee
3.40% of the converted amount
Minimum income requirement
$75,000 p.a.
Finally, the Citi Rewards Platinum Card (no guide on Point Hacks yet) comes in with a standard annual fee of $199, and an earn rate of 1.25 points per $1 spent on purchases in Australia and 3 points per $1 spent internationally.
What were the changes to Citi Rewards in March?
Citi implemented a 25% cut to the value of transfers to Velocity and KrisFlyer across all cards in the Citi Rewards program. They were one of the first banks to announce changes to their rewards program for 2016, and some other banks have not yet announced changes which makes it hard to do an effective comparison across rewards programs.
Put simply, Citi's changes reduced the effective earn rates from spend for airline points of their cards, primarily for the Citi Signature and Citi Prestige Visas.
Citi Rewards Transfer Partners
Citi Rewards transfer partners for the Signature Visa are low in number, but high in quality:
Singapore Airlines Krisflyer
Virgin Australia Velocity
Emirates Skywards
For the Citi Prestige Visa the following partners are also included:
Cathay Pacific Asia Miles
Delta Skymiles
Malaysia Airlines Enrich
Qatar Privilege Club
Thai Airways Royal Orchid
Etihad Guest
Air France/KLM Flying Blue
Garuda Frequent Flyer
Eva Air Infinity MileageLands
Hilton HHonors
IHG Rewards
Club Carlson
For Prestige and Signature cardholders, points transfer out to the most commonly used programs of Virgin Australia's Velocity, Singapore Airlines Krisflyer, and Cathay Pacific's Asia Miles programs at 2 Citi Rewards point to 1 Velocity point.
There's a minimum transfer of 15,000 Citi Rewards points and you can transfer as many points over the 15,000 minimum as you like.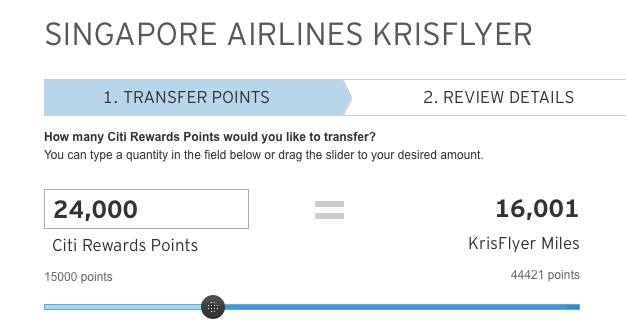 Source: Citibank's website
This means if you're closing your account you'll need to pay particular attention to the points balance to be able to transfer it all in one go – if you let it go below 15,000 points, the points will be stuck there.
Transfers to Cathay Pacific Asia Miles and Qantas Frequent Flyer are only available on certain card types. Citi Prestige cards (with a $700 annual fee) get access to Asia Miles transfers as well as all the other international partners, while all Citibank cards which allow earn into Qantas have to be set up as direct sweep into compulsory Qantas points, where you can't hold a balance in Citi Rewards.
Emirates Skywards transfers are possible from the Citibank Signature and Prestige Visas at 2.5 Citi Rewards points to 1 Skyward mile. Again, the 15,000 point minimum transfer level applies.
Citi Rewards Bonus Point Partners
Citibank has a wide range of bonus partners – many of which are quite niche. There are a few mainstream retailers though, and it depends on where you spend your money as to whether you'll get the most out of their bonus partner program.
The earn rates for bonus partners differ from card to card, as follows:
Citi Classic – 1 point + 3 bonus points = 4 points per $1 spent
Citi Platinum – 1.25 points + 3 bonus points = 4.25 points per $1 spent
Citi Signature – 1.5 points + 3 bonus points = 4.5 points per $1 spent
Citi Prestige – 2 points + 3 bonus points = 5 points per $1 spent
There's no really big bonuses like some of the 10:1 points per dollar rates from a few of the Amex partners, but the offers on dining and various hotel groups could be lucrative.
One of the more interesting partners is InterContinental hotel groups, with bonuses on spend at InterContinental, Crowne Plaza and Holiday Inn hotels, and as they have a wide reach in the region, and hotel spend can be fairly 'big ticket', this could yield some good bonus points. Hertz and Europcar are also bonus partners too.
Bonus points are not available to those who earn points into Qantas Frequent Flyer.
Citibank Travel Program
It's possible to use your points for travel paying directly with your points using the Citibank Travel Program. This might prove to be an OK use of points if you can't find any points flights for your travel dates, with redemptions yielding a value of 1c per point.
Other offers and benefits
Citibank Dining is a benefit of some of Citibank's cards too, however it's value is debatable. Some may get great value out of it, with a free bottle of wine and some occasional discount offers when dining at a large range of selected restaurants. In our experience though, some restaurants don't consistently offer or respect the benefit, making it hard to make the most of. The full list of benefits is here..
There's also a changing range of other offers and benefits, including some discounts at select retailers, detailed here.
Why Citi Rewards? My thoughts
Citi Rewards is a useful rewards program, given it has the key airline partners for points transfer – transfer rates to Asia Miles and Singapore Airlines KrisFlyer are at least equivalent to others in the market for a non-American Express card program.
If you like dining out in any of their dining partner restaurants where you can earn significantly more points than with other cards; or pay for stays often at Holiday Inn, InterContinental or Crowne Plaza hotels and earn bonus points for doing so.
American Express Membership Rewards is a bit more accessible though, with some lower fee cards in the range like the Platinum Edge, especially if you're interested in hotel, rather than airline redemptions, and for their flexibility in transferring much smaller amounts of points – the minimum transfer levels for Citi Rewards transfers to airline partners are comparably high.
If you think you're able to direct the majority of your spend onto an American Express, then you may be better served with Membership Rewards.
However, if you're not into Qantas Frequent Flyer, and want a flexible secondary card, then a Citi Rewards linked card is worth considering.
Point Hacks Credit Card Information
Point Hacks is published by Newformula Media. Newformula PTY LTD (ACN: 609 361 051) is a credit representative (486568) of Eurofinance Corporation Pty Ltd (Australian Credit License: 393845). In some instances, Newformula PTY LTD receives a commission or benefit for referring you to the services of a credit provider. This commission or benefit is disclosed at the point of referral to the credit provider. This website does not provide credit or advise you to apply for credit assistance from any particular provider.
We have not taken into consideration your circumstances or financial situation when providing the information on this website. It is important you read the relevant PDS from the product issuer and seek the independent advice of an appropriately qualified professional before making a decision on a product.