With a 150,000 Membership Rewards bonus, the American Express Platinum Business Charge card is aimed at small and medium size businesses who want to maximise their points earn and travel benefits.
150,000 Membership Rewards points on approval
A vast range of Small and Medium Enterprise specific benefits, insurances (PDS), rewards and travel options
Unlimited access to Virgin Australia and American Express airline lounges globally
$1500 p.a. annual fee
Spend $5,000 in first two months of ownership to qualify for signup bonus
Card Members who currently hold or who have previously held any other Small Business Card product issued by American Express Australia Limited in the preceding 18 month period are ineligible for this offer
Offer expires: 31st March 2017
Read the Amex Business Plat Charge guide →
Point Hacks earn a maximum of $150 per applicant for this card. More about this →
American Express is back to offering a large bonus of 150,000 Membership Rewards points for new holders of the Platinum Business Charge Card.
The 150,000 Membership Rewards points can be transferred to Qantas, Velocity, Asia Miles or KrisFlyer (and more) and are available to those who spend $5,000 on the card within the first 2 months of membership.
With recent updates to eligibility rules for new cardholder bonuses from Amex, this bonus would be available to all approved applicants except existing holders of American Express issued business cards.
The sign-up bonus will help offset the cost of the annual fee in the first year, so you could use the initial year to test whether you are getting real value from the card that can be earned in subsequent years – or that's the theory, at least.
Card Details
Card
American Express Business Platinum Charge
Loyalty Program
American Express Membership Rewards
Points earned from spend
2 MR points earned per $ spent at restaurants
2 MR points earned per $ spent on a range of business expenses
0.5 MR point per $ spent on government and utilities, and
1 MR point per $ spent everywhere else

Travel Benefits
Global and domestic lounge access, Platinum Business Concierge service
Included Insurance
Travel insurances, purchase protection, monthly business expense and car rental damage waiver (PDS)
Overseas transaction fee
3% of the converted amount
Annual Fee
$1,500 p.a.
Effective Frequent Flyer Program Point Earn Rates
Frequent Flyer Program
Domestic Spend
Overseas Spend
Qantas Points
1 point / $
2 points / $
Velocity Points
1 point / $
2 points / $
Singapore Airlines KrisFlyer Miles
1 point / $
2 points / $
Cathay Pacific Asia Miles
1 point / $
2 points / $
Key eligibility requirements for the American Express Business Platinum Charge
Have a personal gross (pre-tax) annual income of $75,000 or more
Operate a trading ABN or ACN
There are no requirements for the self-employed to have been trading for 18 months or 12 months if they hold another American Express card when considering the Business Platinum Charge. Therefore, this card could be an alternative to the personal Platinum Charge card.
Key differences to the personal Charge Card
Increased 2x per $ points earn on advertising spend, couriers and computer supplies
Higher points cap (from 300,000 to 375,000)
No $300 travel credit
For many people the Personal Platinum Charge card could be a more appropriate card. For those who spend a lot in certain spend categories (business related) where points bonuses are available then the Business Platinum Charge could increase the potential points earn.
Platinum Business is a Charge card…
This is a charge card, which means that the balance of the card must be paid for in full each month, as opposed to a credit card, where you can carry your balance over to the next month.
American Express offer some more detailed information regarding the differences between a charge and credit card here.
Benefits of the Platinum Business Charge Card
The benefits of the Platinum Business Charge card include – take a deep breath –
Earn Membership Rewards points, including the ability to transfer to Qantas Points
99 Supplementary cardholders free of charge
Global and domestic lounge access – American Express, Virgin Australia and Priority Pass
Platinum Business concierge service
Benefits when utilising travel booking services when using American Express Travel
Travel insurances (including points redemption bookings) and purchase protection, monthly business expense, car rental damage waiver and breakdown cover (Read full PDS here)
Complimentary annual digital multi-service subscription per year
Platinum's 'by invitation only' program, which gives access to events and experiences that are not open to the general public
Guides on the benefits of the American Express Platinum Charge card
Earning Points from Spend on the Business Platinum Charge
With the American Platinum Business Charge Card you'll be earning Membership Rewards points.
In short, Membership Rewards partner with the major frequent flyer programs in the region as a flexible points program, which allows on-demand transfers of your points over to the frequent flyer program at your request.
On top of the standard benefits of Membership Rewards points, Platinum Business Charge account holders are also able to transfer their points to Qantas Frequent Flyer – one of only a couple of cards in the market that can do this (rather than earn directly into Qantas Points).
The Platinum Business Charge card earn rates are as follows:
2 points per $ at restaurants, airlines and accommodation
2 points per $ spent on a range of business expenses including "key national and regional advertising media channels, preferred national and local courier and freight distributors, select computer equipment and supply specialists excluding department stores and general computer suppliers".
2 points per $ on overseas spend
1 point per $ everywhere else
0.5 points per $ on government and utility transactions
You should be aware that in order to receive the 2 points per $ for spend at restaurants, airlines and accommodation, the expense must be categorised as such in the American Express Merchant Acceptance system.
For example, dining within a retail department store, hotels, pubs and liquor outlets may not be eligible to receive the additional points for restaurants. Spend on airlines or accommodation is eligible for the additional points when paid directly to the merchant or through a travel agent.
The American Express Business Platinum card offers bonus points with companies described as follows – "key national and regional advertising media channels, preferred national and local courier and freight distributors and select computer equipment and supply specialists".
Some of the merchants that earn double points for advertising spend:
ABC Outdoor
APN
clixGalore
Community Newspapers
Facebook
Fairfax
Google Adwords
Macquarie Southern Cross
News Limited
Nine Entertainment
Prime Television
Seven West
Surround Plan
The Sunday Times
The West
WIN Television
National and local courier and freight distributors eligible for bonus points include:
The 0.5 points per $ earn rate for government and utility transactions include gas, water and electricity providers, Australian Taxation Office, Australia Post, federal/state and local government bodies and insurance providers excluding insurances offered by American Express.
American Express Platinum Business Points Cap
American Express applies a points cap of 375,000 points earned before reverting to 1 point per $1 spent.
The points cap is a shame, given that this card allows for 99 supplementary cardholders free of charge, which is encouraged by American Express as ideal for small business owners to spread points earning across many employees.
Lounge Access with the American Express Business Platinum Charge
There are several airline lounge options you can take advantage of as a Business Platinum Charge cardholder.
Virgin Australia offers the primary cardholder unlimited access to Virgin Australia lounges – and you'll also be able to bring in a guest travelling with you. You'll need to be travelling with Virgin Australia to gain access.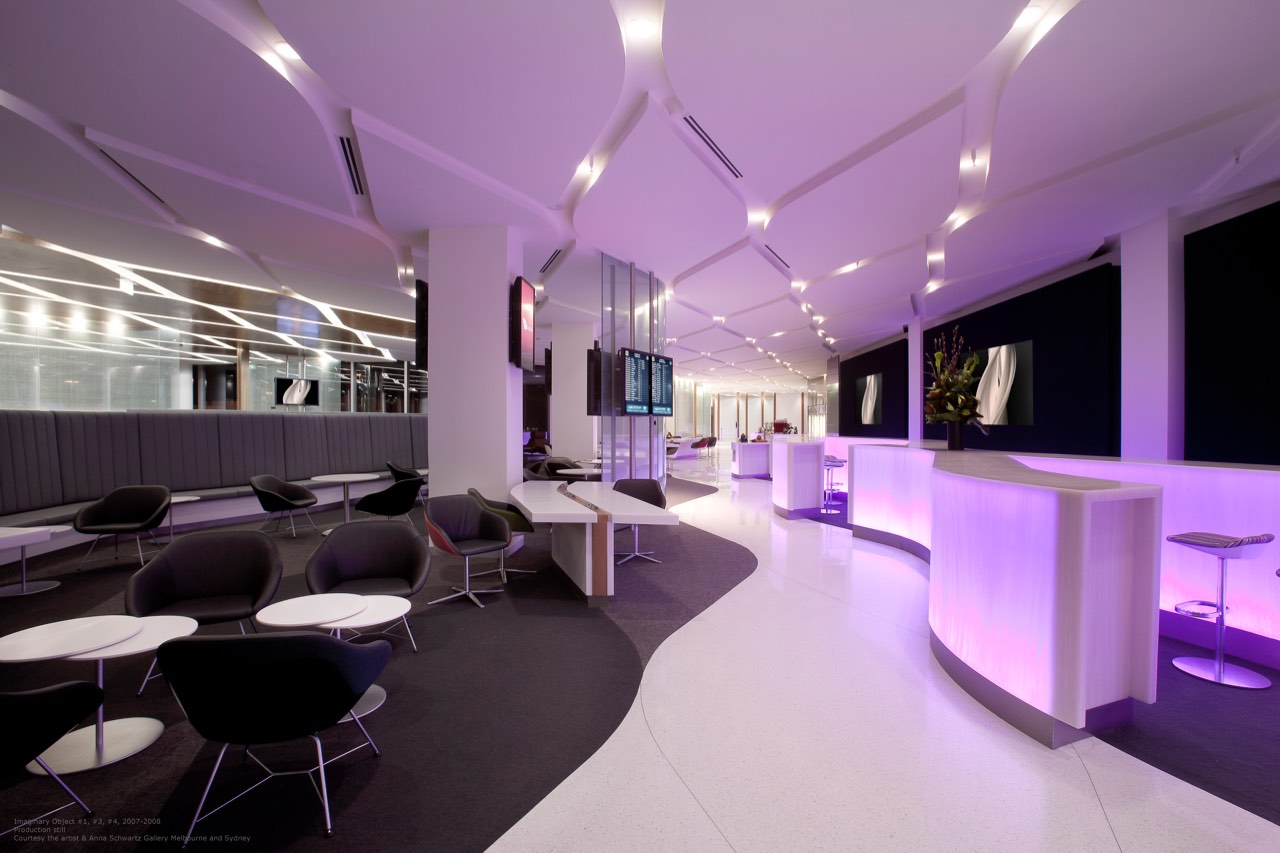 American Express also has growing network of Amex branded airline lounges globally, including one opened just last year in Sydney Airport in the International Terminal.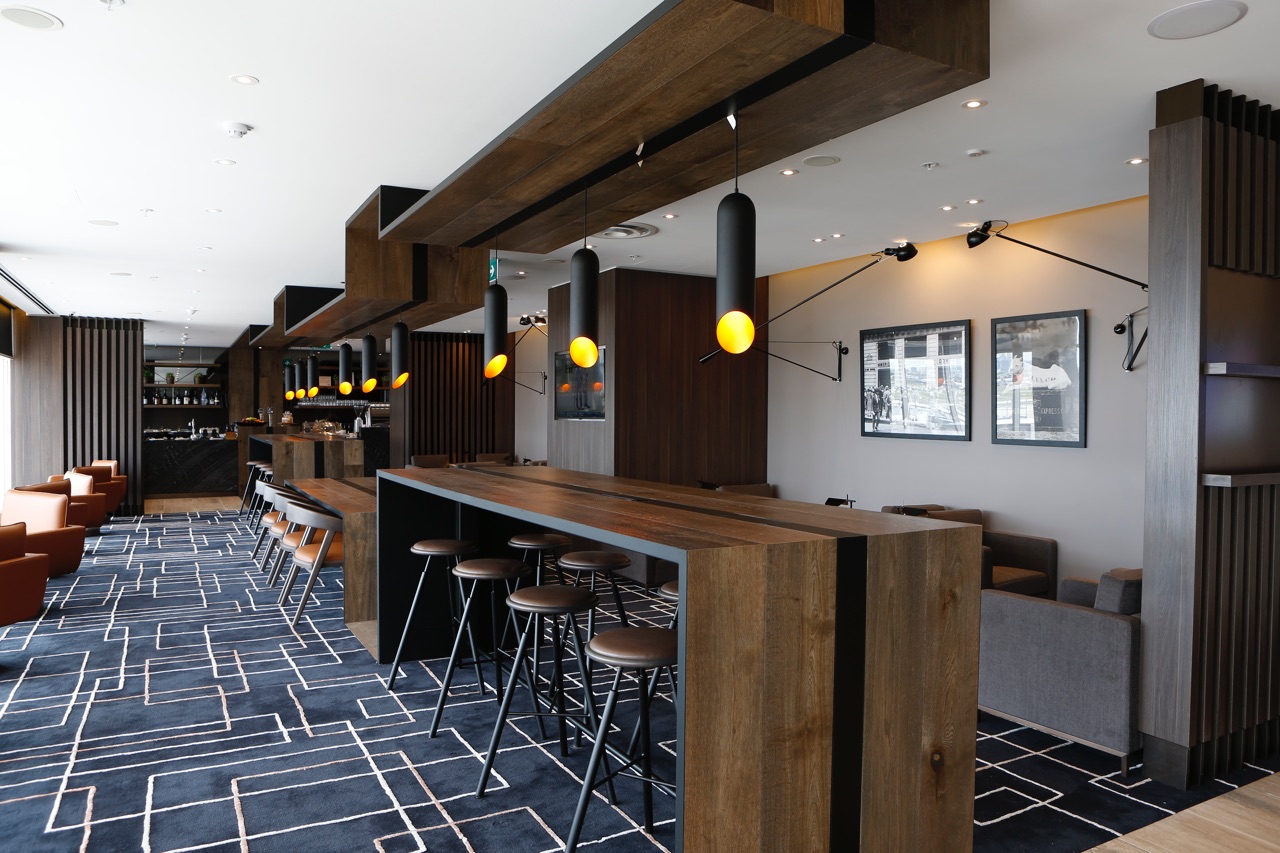 Generally you'll be able to bring 2 guests to the American Express lounges, as well as children travelling with you, and with the Platinum Charge will be able to access the Sydney lounge (and others globally) on an unlimited basis.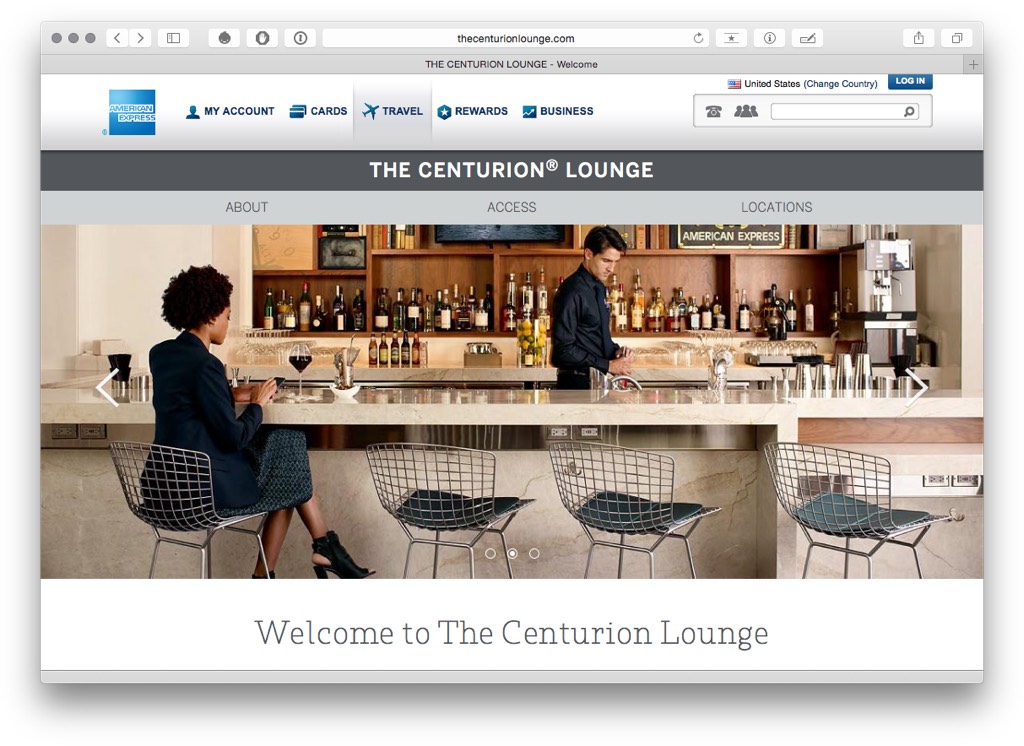 The full list of available lounges in the USA (which are branded as Centurion lounges) is here.
You'll receive a Priority Pass lounge membership for you and a supplementary cardholder, and a guest travelling with you. (There's also a 10% discount on paid Priority Pass memberships here for Point Hacks readers)
Access to travel booking benefits and services through American Express Travel
American Express Travel is available to all Amex cardholders, but Platinum Business Charge cardholders receive additional value. The benefits however do fall significantly short of what's on offer with its sister personal card, the Platinum Charge.
For Business Class fares, Amex Travel has competitive pricing and has access to a wide range of discounts that may not be publicly available.
This is primarily across their partner airlines – British Airways, Delta, Emirates, Etihad, Singapore Airlines, South African Airways and Virgin Australia.
Beyond airfare, there are also a number of partner independent hotel chains which offer some exclusive benefits when booking through American Express Travel.
For example Design Hotels offer free breakfast and wifi, while Small Luxury Hotels of the World offer a room upgrade, late checkout, and breakfast for two.
There's then the major hotel program benefit – American Express Fine Hotels and Resorts.
American Express Fine Hotels & Resorts is only for Platinum Charge cardholders
American Express Fine Hotels & Resorts is a unique benefit for cardholders, which offers more hotel benefits when booked through American Express.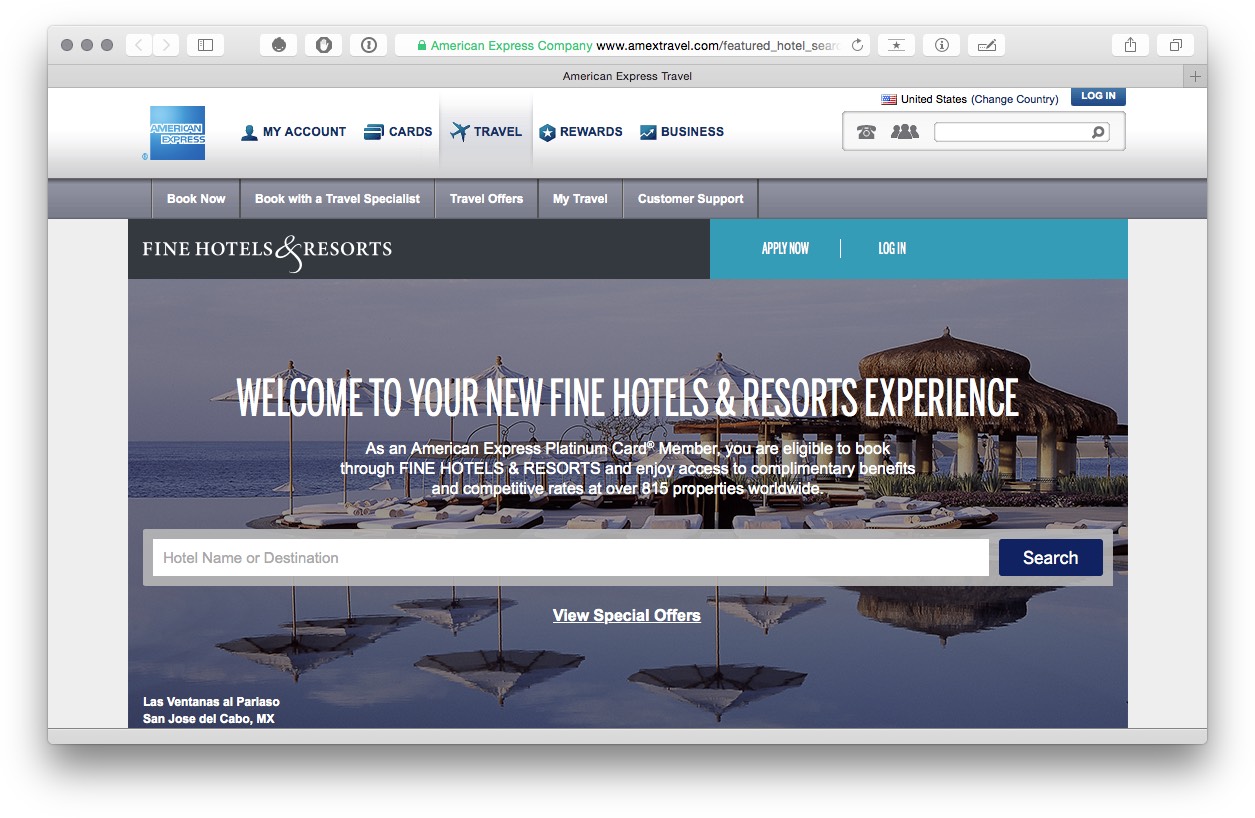 With many Fine Hotels & Resorts bookings you'll also continue to receive points and status with the parent hotel loyalty program too.
The benefits may include:
An on property benefit, often $100 USD in credit per stay
12pm check in
Room upgrade if available
Free breakfast
4pm late checkout
Free wifi
Hotel Status & Membership that comes with the American Express Platinum Charge
The Platinum Charge card comes with a range of hotel and other elite status benefits. We've covered off exactly what you'll receive in a dedicated guide, but the key benefits are Starwood Preferred Guest Gold and Club Carlson Gold Elite status.
Platinum Business Concierges
There's a dedicated Platinum Business Concierge service which is apparently focused on the needs of Small and Medium Enterprise cardholders. I quote:
"Whatever you need just call us 24/7 and we will go out of the way to make it happen".
Source: The AmericanExpress® Platinum Business Card Website
Platinum Business Charge Travel and other Insurances
It is difficult to provide too much commentary on the card's insurance coverage given that each person's insurance needs are different – So check out the full Platinum Business Charge Insurance PDS and assess whether it will cover your needs.
Depending upon the type of cover, the insurance is activated by either just being a Platinum Business Charge cardholder, or by making a purchase of an eligible item.
The insurances included are:
Monthly Business Expense Insurance, where the cardholder will receive protection in the event of they are temporarily unable to run their business, to a maximum of $12,000
Travel insurance, including for points redemption bookings from using points earned by your Platinum Charge
Purchase protection
Roadside assistance insurance
Up to $125,000 of Loss Damage Waiver insurance for rental cars
This guide references some of the benefits of insurance policies provided with this credit card.
You should read the PDS and obtain independent professional advice before obtaining this product.
Complimentary Annual Digital Multi-Device Subscription
Tailored to Platinum Business Charge cardholders is a free annual digital subscription to either The Sydney Morning Herald, The Age or The Financial Review. The subscription is for 12 months, however once a choice is made, it cannot be changed within the first twelve months.
Eligibility criteria for bonus points for existing American Express cardholders
American Express are quite specific about whether existing cardholders will be eligible for bonus points if they apply for a card, are approved, and meet the minimum spend criteria.
Firstly, if you hold a bank-issued American Express – e.g. from Westpac or from ANZ – that alone won't affect whether you're eligible for bonus points with an American Express branded card offer. There's more in our guide to this here.
If you do already hold an American Express-issued card, then the type you hold impacts whether you're eligible for a new cardholder bonus. American Express offer consumer (or personal) credit cards, consumer Charge cards, and business credit cards. If you hold a card in one of these categories and apply for a card in the same category, then you won't be eligible for a bonus.
However if you hold a card in one category and apply for a new card in a different category, then you are eligible for the signup bonus. We've explained this in more detail here.
Summing up – the American Express Business Platinum Charge
With a $1,500 annual fee, the expectation is that this card should tick all the boxes, and while the card does offer some very nice benefits, it is different to it's personal card equivalent, the Platinum Charge card.
If you are frequent traveller with a high spend, put a lot of your business spend on advertising, couriers or computer equipment, and are likely to utilise the softer benefits such as insurance protections and concierge, then this card may be for you.
But given the high cost of the card, a serious cost/benefit analysis should be undertaken before considering it.
Point Hacks Credit Card Information
Point Hacks is published by Newformula Media. Newformula PTY LTD (ACN: 609 361 051) is a credit representative (486568) of Eurofinance Corporation Pty Ltd (Australian Credit License: 393845). In some instances, Newformula PTY LTD receives a commission or benefit for referring you to the services of a credit provider. This commission or benefit is disclosed at the point of referral to the credit provider. This website does not provide credit or advise you to apply for credit assistance from any particular provider.
We have not taken into consideration your circumstances or financial situation when providing the information on this website. It is important you read the relevant PDS from the product issuer and seek the independent advice of an appropriately qualified professional before making a decision on a product.