In the last couple of weeks American Express have released some new Amex Offers (which you can find in your Amex app, or on the web here which are more interesting (to me at least!) than the usual spend $x, get $y back statement credits.
Of interest are 5 points per $ at Avis, The Iconic, Fairfax & Roberts and My Wine Guy. Why? These are the first bonus point offers we've seen from Amex in some time – when Amex Offers launched a couple of years ago, they removed all of the previous bonus point partners, and previously there were some good bonus point offers available.
Here are the bonus point offers: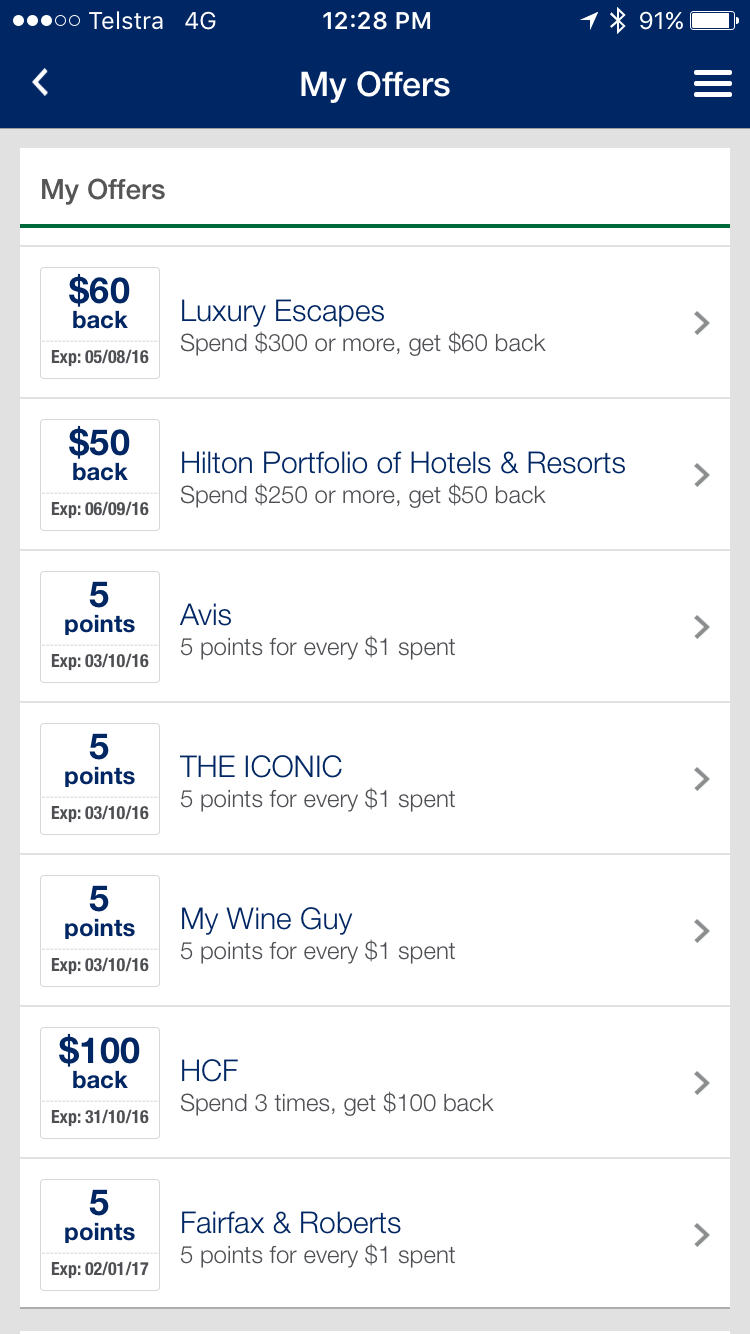 As an aside – there's also a useful $50 travel credit with $200 spend via Amex Travel too: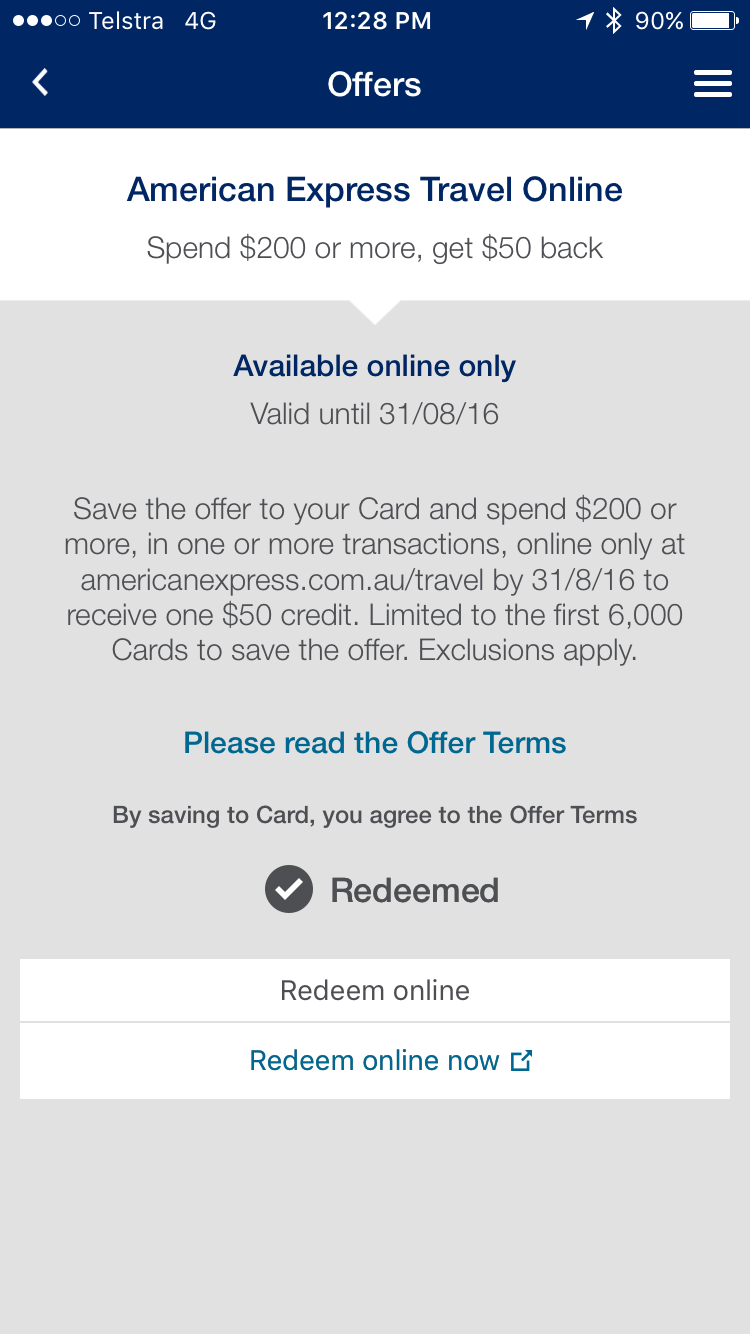 I'm not saying that these offers are better than statement credits – but it is great to see Amex continuing to develop the Amex Offers platform and options for cardholders. Hopefully we'll get some more, chunkier bonuses coming through if these go well.
Remember that not every offer is put in front of all cardholders – these are somewhat personalised, so you may not see these in your account.
---
Guide to Amex Offers & Amex Connect
This guide was originally published in January 2016, and written by Kellie Norton, Point Hacks contributor
American Express has a number of cardholder programs which provide practical, everyday benefits to cardholders – one such program is Amex Offers.
This program entitles cardholders to discounts and savings by crediting users' accounts when eligible purchases are made. Or, in short, if you shop at a specific business, Amex will pay you to do so.
Offers for bank issued versus American Express issued cards
Cards issued by American Express are eligible for Amex Offers through the AMEX AU app (iOS or Android) or via the American Express website account area.
Bank issued American Express cards are eligible for Amex Offers through Amex Connect, In order to access the specials and offers, cards first need to be registered at the AMEX Connect homepage.
Not sure what card you have? This article will help.
Amex Offers vs Amex Connect
Amex Offers is a program which provides a statement credit to your account for making an eligible purchase. Think of it as an instant cashback offer without having to deal with any paperwork.
Amex Connect encompasses Amex Offers. Not only are you able to receive great cashback benefits, it also provides deals and discounts on travel, dining, shopping and entertainment. Whether your card has been issued by a bank or through American Express themselves Amex Connect is accessible to all cardholders. Simply register your card to access savings.
Just keep in mind that some business, travel, government and prepaid cards are not eligible.
How Amex Offers works for American Express issued cards
Once you have registered your card and have logged in to either Amex Connect or Amex Offers you can select any deals that you like, add them to your card, make the eligible purchase following the terms and conditions and then receive your statement credit.
Once you add the offer to your card and meet the offer criteria, Amex will then credit your account.
According to the terms & conditions, statement credits are processed within 3 working days, but can take up to 90 days after the end of the offer to appear in your account. In my experience, however, statement credits have appeared within 48 hours or less of the purchase being made.
Adding an offer is simple with Amex Connect – click on the save to card link and you're done. Once the offer is saved, you can still view all the terms and conditions on the "My Offers" Tab.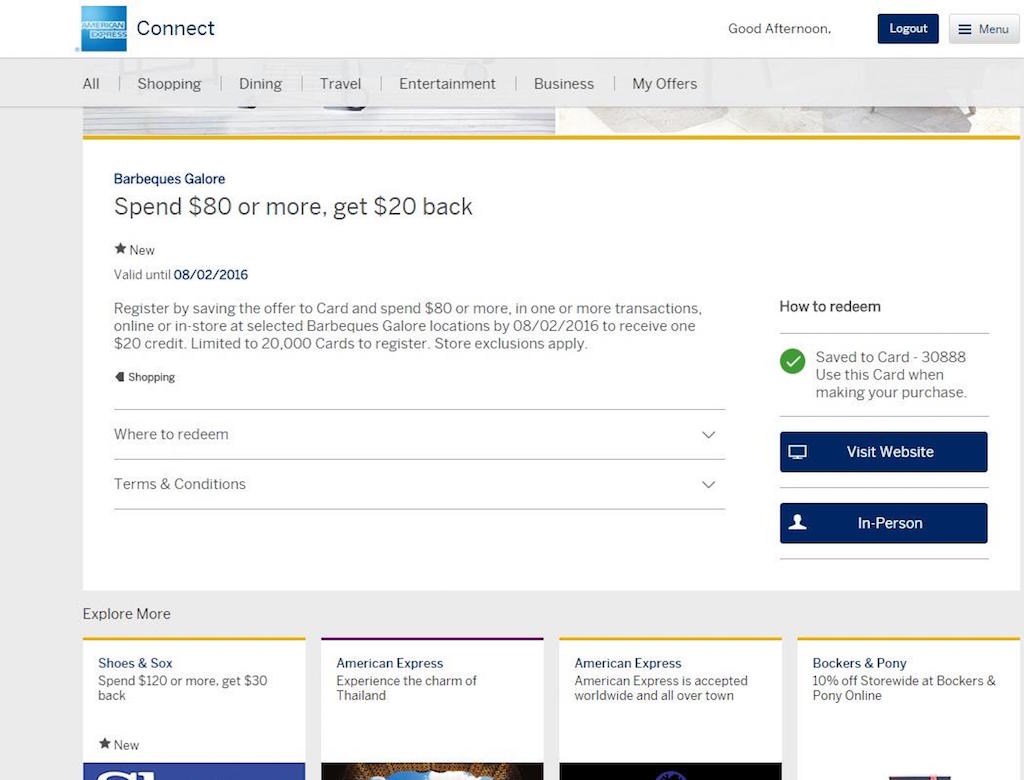 Alternatively, using the Amex App is just as simple. Open the app, check out the offers tab and select the offers that suit you. You can then access the "My offers" tab at any time to see the status of each offer has been saved.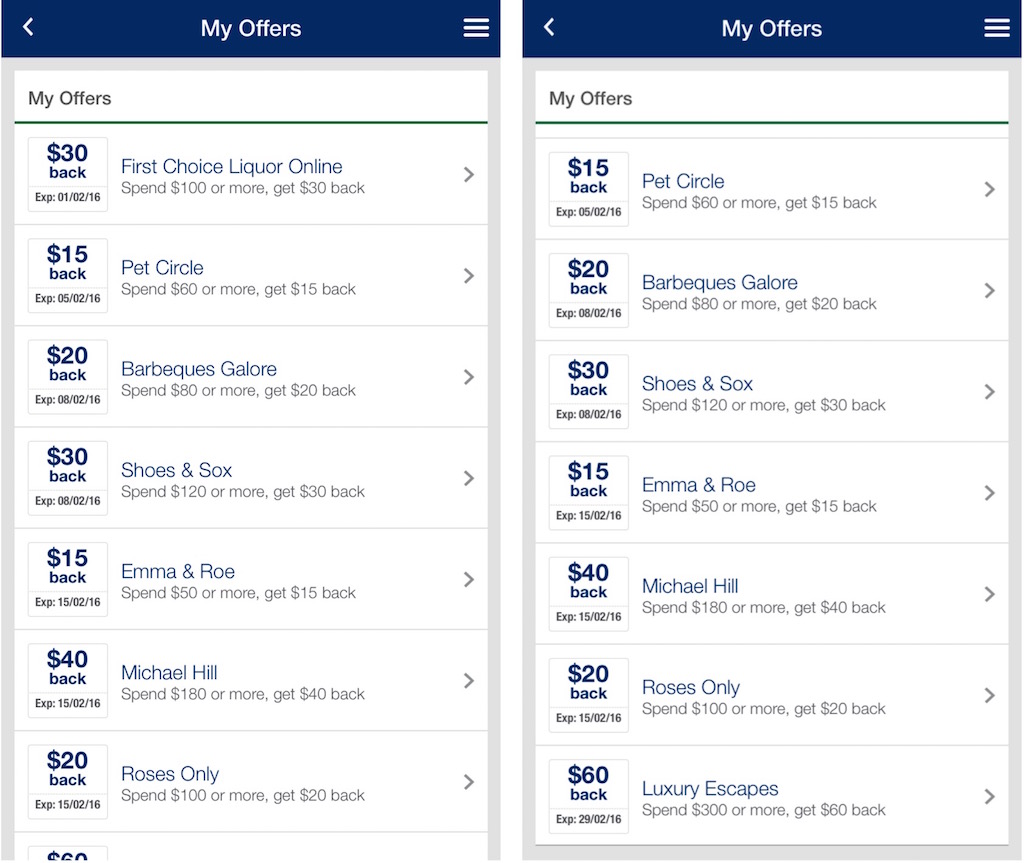 Offers are redeemable instantly, so it pays to check what new offers are available before heading out to the shops or when purchasing anything online.
How it works for bank issued cards – Amex Connect
Again, once your card is registered and you have logged on to Amex Connect you can access any Amex Offer as well as some Travel, Dining, Shopping and Entertainment discounts.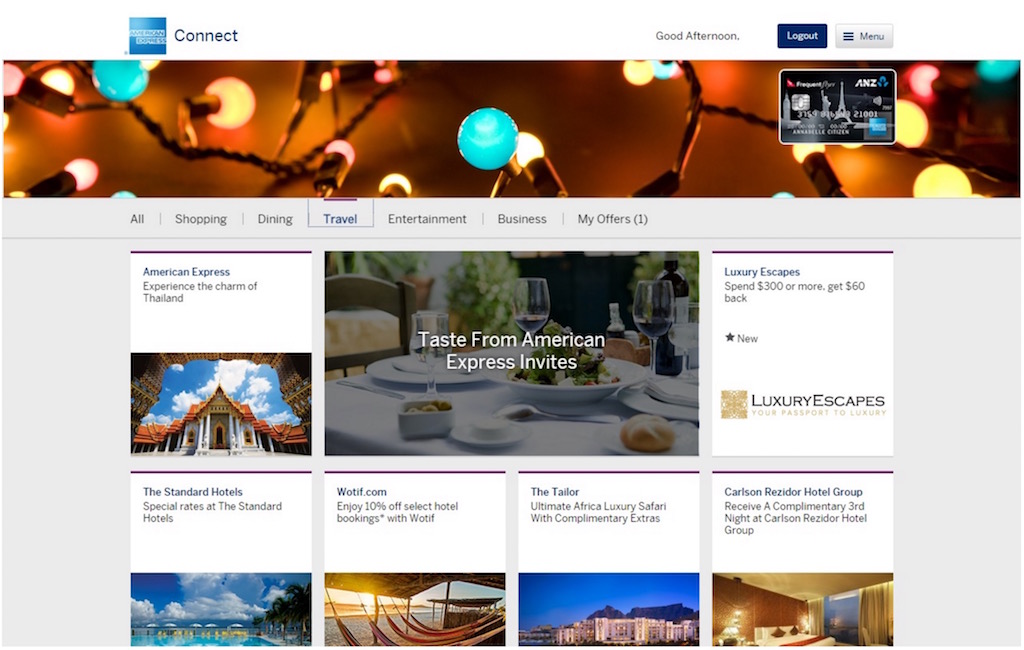 For example, a useful deal at the moment is 10% of select hotels when booking with Wotif. However the number of offers for bank issued Amex cards is generally fewer than those available for the cards that are offered directly from American Express themselves.
Amex Shop Small – Amex Offers on steroids
American Express also run "Shop Small", usually once per year, where any American Express card can register for statement credits at small businesses that accept American Express.
The last Shop Small offered 10 x $10 statement credits for transactions over $20. There are rumours this will run earlier in 2016 than last year, so we'll keep you updated when we hear it's coming next.
Summing up – Amex offers
American Express continue to try and innovate for their consumer customers, and with Amex Offers and Amex Connect they continue to provide an increasing number of deals for the typical Australian household.
Keeping an eye on the offers section of the mobile app is an easy way to see where you can score some discounts in the form of statement credits – but the usual rules of discount hunting apply, don't just go overboard and spend more than you would have done anyway just because there's a deal!